7 Criteria to Help You Choose the Best Care Management Software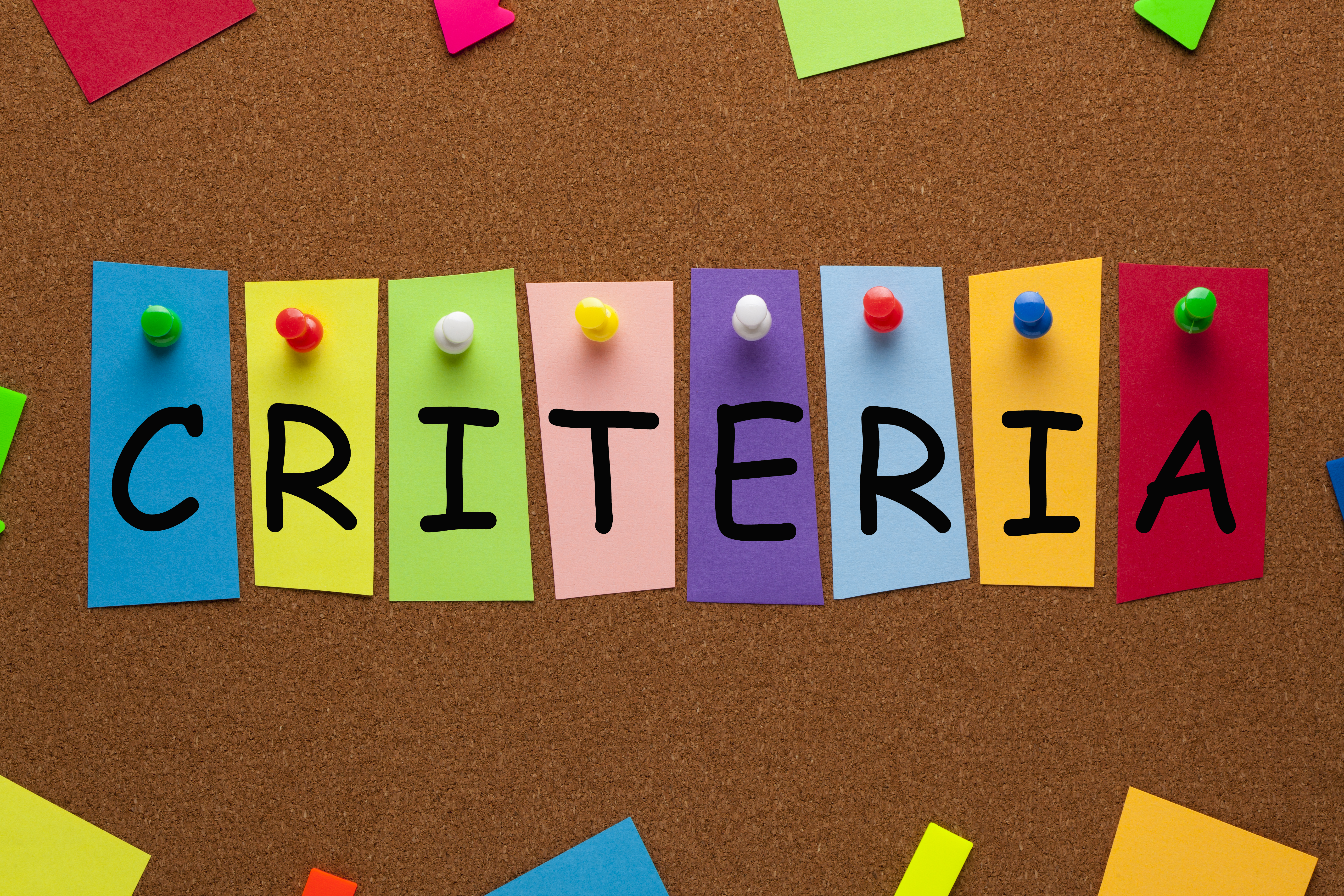 Subscribe
If you're shopping around for care management software, you may be feeling a bit overwhelmed.
There are many software options out there with varying features and levels of service, so how do you choose which is best for your practice?
The best idea is to develop a set of decision-making criteria that you can evaluate potential options against. In this article, we'll walk you through the steps to developing said criteria.
As a care management software provider, we've worked with hundreds of healthcare providers across the country and learned many best practices for how to evaluate care management software along the way.
Our clients include providers large and small, from expansive ACOs to small, rural health clinics.
While the decision-making criteria may vary from practice to practice, we'll discuss some of the most common criteria that practices evaluate against when shopping for care management software.
Before developing your criteria, there are a few steps you'll have to tackle first to ensure you pick the right software for you and help ensure the success of your program.
Step 1: Establish Goals For Your Program
Before you can develop said criteria, you'll first want to establish the goals for your care management programs.
All decisions you make regarding your care coordination and wellness programs should ultimately serve these goals.
Perhaps your goal is to improve the quality of care for your most at-risk patients. In that case, you may want to prioritize software that has extensive features to engage and treat patients.
On the other hand, you may want to focus on efficiency. Running care management programs can provide valuable revenue streams for your practice, but can require immense workloads.
A quality care management software solution can greatly reduce the time burden required in running such programs. If your goal is efficiency, you'll want a software that has a seamless workflow with an intuitive user interface.
So what are the goals of your care management program? Figure those out first, and you can then move to the next step.
Step 2: Review Tools and Features of the Software
Now that you know your goals, identify the software with the tools and features necessary to best accomplish those goals.
One way to do that is to browse the website of software you are interested in to see if the software fits your needs. The website should include thorough information on the capabilities of the software.
It's important to note here that while you're ultimately looking for features that serve your goals, the staff within your practice may have different views about which features are most important.
For example, what's essential to administrative staff may differ from what's essential to care managers, and further what's important to physicians. Look for a software solution that has tools and features that appease most of, if not your entire staff at the practice.
Step 3: Try A Demo of the Software
Now that you know your goals and have explored various software solutions, identifying their features, it's now time to give the software a try.
Seeing the software in action can be a good test to see if the solution will work for your practice.
We recommend having all care team members present during the demo, especially the staff that will be spending the most time working in the software. It may also be helpful to invite your biller(s) who will be submitting your Medicare claims (if applicable).
During the demo, this is your chance to ask all the questions that you or your staff may have.
How To Evaluate Your Software Options
After completing the above three steps for every care management software you're interested in, it's finally time to evaluate your options.
While no two providers may share the same criteria, we'll explore the most common and important criteria providers use in evaluating care management software.
Criteria 1: Pricing
Pricing of care management software can vary widely depending on the number of programs and patients you'll be managing, as well as the features included in the software.
You'll find software priced as low as $.99 to as high as $8 per patient per month. Full-service solutions can cost as much as $20-$30 per patient per month.
Ultimately, the old adage of "you get what you pay for" rings true.
You may find low-cost software solutions that require more manual use and offer little-to-no automation, requiring more staff time to use. Low-cost software may also lack extensive reporting, clinical content, and auditing functions, and come with poor technical support.
Premium care management software will have an extensive list of features and functionality. Though premium products will cost your practice slightly more, the benefits of those software solutions usually lead to substantially higher returns on investment than lower-cost options.
Look for software vendors that have transparent pricing, including tools such as pricing calculators that show you potential costs and/or return on investment.
Criteria 2: Reporting
Look for extensive reporting features like the ability to generate comprehensive and exportable reports of the following items:
Time logs
Enrollment information
Claims and billing information
Care plan summaries
Call log summaries
Care Manager activity
You should easily be able to see all of your clinical data, summaries, and activities in PDF or CSV formats.
Reporting allows providers to measure the effectiveness of the programs they're managing and leverage the data to learn, adapt, and improve their programs.
Reporting can also be beneficial in case of an audit by CMS.
By knowing the proper billing requirements for each program, developing a coherent workflow, and utilizing a software that makes it easy to generate the reports and documentation needed, you'll save yourself a lot of the hassle that usually comes with an audit.
Extensive reporting can also improve quality scores for MIPS and MACRA through the measurable quality improvement of patient care.
These are quality measures that the Centers for Medicare and Medicaid Services (CMS) uses to reward practices in the form of higher reimbursements based on the quality of care they provide.
Criteria 3: Compliance and Security
Your care management software should be HIPAA compliant. There are certain legal and regulatory requirements defined by HIPAA that you'll want to ensure the software meets. Ask about the HIPAA certification.
Is there a contingency plan? Data backup plan or data recovery plan? For example, some software solutions will work with 3rd party vendors to backup their data.
If this is a platform that you're going to access and export patient information in, you need to make sure the security that the software solution you're providing isn't leaked or ever at-risk. If information is compromised you open yourself up to legal repercussions.
Additionally, look for security policies within the vendor or through third parties to manage information, monitor activity, and authentication processes to keep your protected health information safe and secure.
Criteria 4: Ease of Use
Most care management software vendors claim that their solution is easy to use. So how do you know if it's actually true?
We mentioned earlier that you should try a live demo of the software. During the demo, pay attention to the general layout of the user interface, the look and feel of navigation, and the features that cater to all users from administrative staff to physicians.
Some software solutions also offer extensive customization options. While customization is normally thought of as a positive attribute, be careful about the software becoming too complex.
The purpose of intuitive care management software is to improve efficiencies and make managing these programs easier, not harder. Intuitive software will usually meet the needs of even the largest providers without the need for customization.
Criteria 5: Clinical Content
CMS requires care plans for most care management programs.
A comprehensive care plan for all health issues typically includes, but is not limited to, the following elements:
Problem list
Expected outcome and prognosis
Measurable treatment goals
Symptom management
Planned interventions and identification of the individuals responsible for each intervention
Medication management
Community/social services ordered
Schedule for periodic review and, when applicable, revision of the care plan
As mentioned earlier, lower-cost solutions may still require you to manually input most patient information. With care plans, quality software solutions offer simple templates that care managers easily populate themselves.
The best care management software will use a guided-interview approach to care plans.
This approach walks the care manager through the entire care plan step-by-step. The software will have clinical content and questions built-in, doing most of the leg work for the care manager.
Criteria 6: EHR Integration Ability
The best care management software solution is meant to be used with any certified EHR.
That can either be through direct integration with your EHR or as a supplemental solution to your EHR that allows for seamless sharing of data across platforms for items such as care management reports and summaries.
This is useful because many providers won't access a patient's information on the software itself. Instead, they'll rely on reports and summaries to see patient data and care info.
Some EHRs do allow care management solutions to directly integrate with them. This is because EHRs generally don't support care management very well. Direct integration with EHRs allows for seamless instantaneous sharing of data without the need to download or upload, limiting the time spent in the EHR.
Some EHRs do offer their care management software solution, but they're limited in functionality and features, resulting in more staff time, fewer audit features (opening yourself up to audits), and worse coordination of care (less patient-centered care).
This feature improves efficiency and ensures accuracy in data between your EHR and care management software.
Criteria 7: Support and Training
When purchasing a care management software solution, you should consider it as entering into a relationship with the vendor.
A relationship thrives when your partner supports you and you should look for a strong support system when shopping for care management software.
You will want to know if the vendor will work with you to onboard your team. Some questions to ask include:
Will they supply training?
Is that an extra cost or included?
Does the software have ongoing technical support after onboarding?
Do they have a library of educational content and helpful articles?
The best care management software will include onboarding and training for your staff, live technical support via phone, email, and instant messaging, and a large library of educational content and resources.
Deciding On A Care Management Software Solution
You can use the criteria above, and any of your own additional criteria, to evaluate each software option you've reviewed.
Some practices may prefer using a ranking system for evaluation. For example, you can rank each software from 1-5 on each of the seven criteria we listed above.
Below is an example of what that would look like:
Ranking System:1 (very bad) - 2 (bad) - 3 (Okay) - 4 (good) - 5 (very good)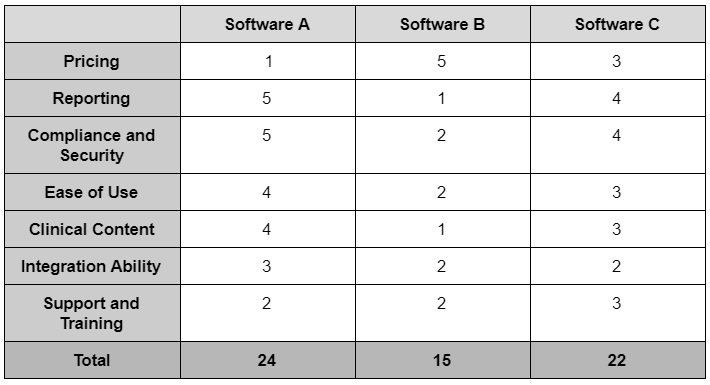 In this scenario, using our ranking of 1 (very bad) to 5 (very good), Software A would be the best option as it has scored the highest of the three software solutions.
This is a simplified ranking system that may work for your practice. If you want to evaluate more critically, you could assign weights to each of the criteria to represent their importance.
For example, if Price is the most important factor for you, to apply a weight to that factor, multiply the score you give it by 7. If Clinical Content is important, but not as important as Price, you could multiply the score by 5.
Here's how the same ranking above would look if weights were added for importance: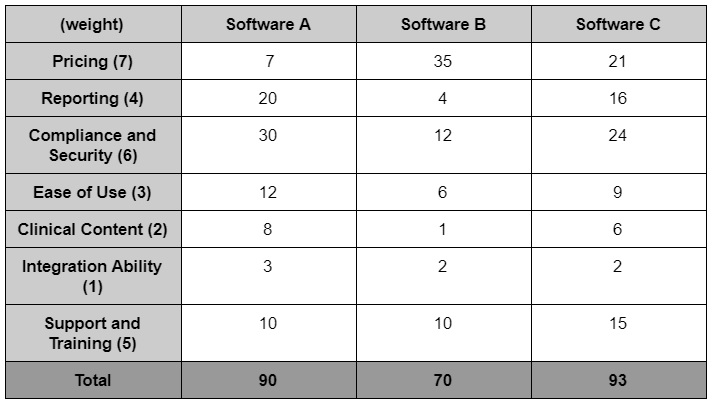 After applying weights, you see that Software A no longer scores the highest, mostly because Support and Training was of higher importance to you and thus weighted more, giving Software C the edge.
You can apply your own ranking and weighting system as you desire.
Whichever method you choose, the ultimate goal is to provide a simplified analysis of each software you have reviewed so that you can make the best decision for your practice.
Remember that decision should serve the goals you've established for the program, which you laid out in the first step of this article.
Ready to start reviewing software solutions?
Our FREE buyer's guide is designed to ease the buying process for you, equipping you with the knowledge needed to select the best care management software for your practice.
ThoroughCare's care management software excels in many of the criteria laid out in this article. We pride ourselves on being a software solution that was built for clinicians, by clinicians.
Our software allows you to manage important Medicare programs like Chronic Care Management, Remote Patient Monitoring, Annual Wellness Visits, Behavioral Health Integration, Transitional Care Management, and more.
Over 400 health care providers across the country choose ThoroughCare to manage these programs due to our focus on maximizing provider revenues and improving patient health outcomes.
Want to learn more about how we can help your practice do the same?
Start by browsing our website to review our software solutions and when you're ready, feel free to request a software demo to see it in action.