What is a Patient-Centered Care Plan?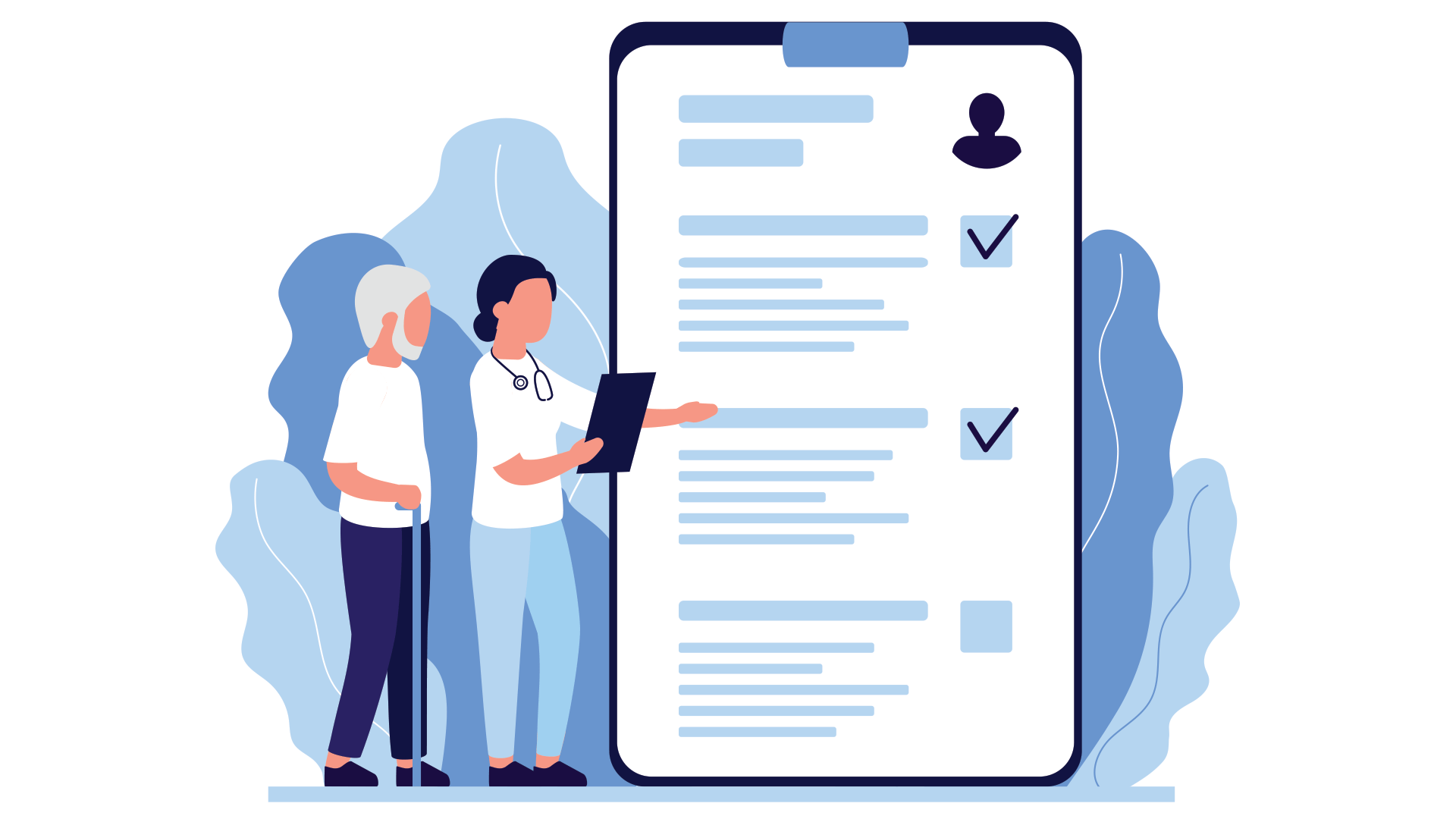 Subscribe
Have you developed relationships with the patients that have come to your clinic over the years? Do you consider that an important part of the care you provide?
Those relationships are at the heart of a patient-centered care plan. This document can help prioritize an individual's unique needs and specify desired outcomes.
It can help your practice develop a comprehensive, specific approach to primary care for chronic disease management and mental health.
For this type of care to be effective, patients must become partners with their health care providers. Active collaboration and shared decision-making between patients, families, and providers are key.
We work with more than 600 clinics and physician practices nationwide that have taken this approach. While definitions of a patient-centered care plan can vary by practice, successful and effective plans under this model share common elements.
We'll walk you through these shared elements, as well as list the benefits for patients and providers.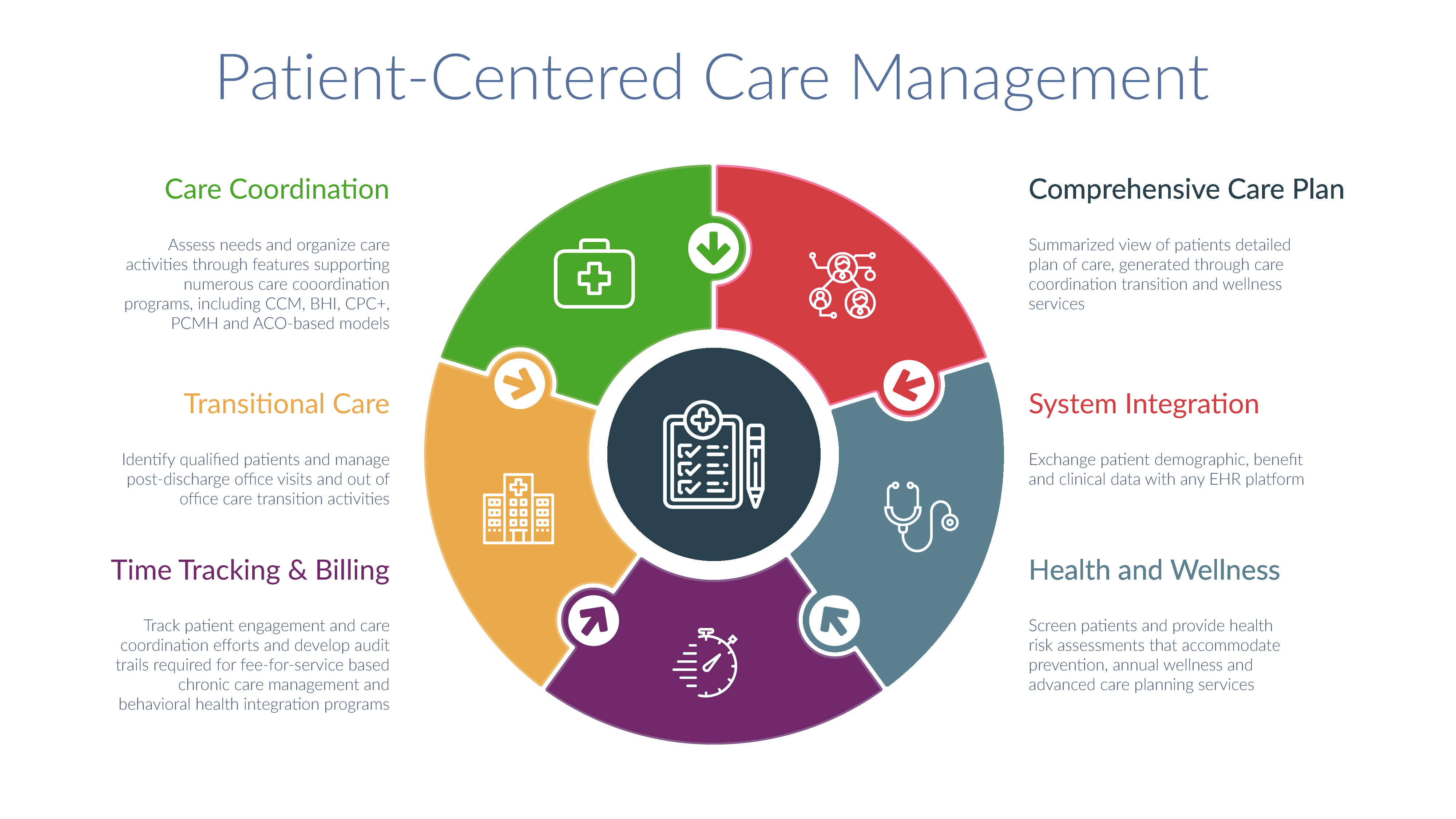 5 Common Elements of Patient-Centered Care
Though each patient-centered care plan is unique to the individual, all care plans share common elements.
1. Collaboration and Coordination
The care a patient receives is collaborative, coordinated, and accessible.
Focus on making the patient journey seamless by coordinating front-line patient care, clinical care, and ancillary and support services. When those are aligned, your practice can alleviate stressors for the patient.
2. Physical and Emotional Care
Under the patient-centered care model, both physical and emotional care is provided. Physical care is provided through pain management, assistance with activities and daily living needs, and even the environment in which the care is provided.
Emotional care can help treat a patient's anxiety in dealing with trigger points such as their physical status and treatment, the impact of their illness on their family and lifestyle, and the financial implications.
3. Involvement of Family and Friends
Family and friends are considered an essential part of the patient-centered care model. By including them in the patient's care, you are adding another layer of support both physically and emotionally.
Often a family member or friend can not only ease patient concerns but also help motivate and engage them.
4. Continuity in Treatment
Just because the patient leaves the office doesn't mean the care you provide stops. Care continues by giving the patient detailed information regarding medications, physical limitations, dietary restrictions, and more.
Additionally, coordinating and planning ongoing treatment and services after discharge is important. That is where the trusted family member or friend serving as an additional caregiver can be vital to a patient's health.
5. Transparency and Knowledge
Being upfront and honest with your patients is a must. Be transparent with your patients not just about the quality of care you can provide, such as quality and safety performance, but about their own health information.
With a patient-centered care model, transparency affects all members of the care team, including the patient.
This allows the patient to make informed decisions along with the provider and empowers your staff to provide the highest quality of care.
Care Plan Benefits for Patients
The patient-centered care model offers many benefits to patients including an improved patient experience, more engagement, and most importantly better health outcomes.
Improved Patient Experience
Involving patients in the decision-making process of their care makes them feel valued.
After all, each patient has their own individual needs, preferences, and unique values. By taking a collaborative approach to the patient's healthcare and respecting their needs, their overall experience is improved.
Higher Patient Engagement
In the past, patients may have felt they were not being completely informed about their health, including the full scope of their conditions or the prognosis they would receive.
The patient-centered care model gives patients the information they need to take an active role in their health.
Sharing information on clinical status and progress can go a long way towards easing patient fears and earning their trust. When patients feel they can trust their doctor, it becomes easier for the patient to become actively engaged in their health.
Improved Health Outcomes
This leads to better health outcomes across the board as patients move towards a healthy lifestyle.
A healthy lifestyle usually leads to a reduction in the utilization of health services, making trips to the doctors less frequent. For the patient, this is the goal.
Care Plan Benefits for Providers
That last part may scare healthcare providers, right? After all, more in-office visits lead to more revenue for your practice.
While a patient-centered care model focuses on improving an individual's health outcomes, the benefits afforded to the provider are numerous.
Improved Patient Satisfaction
By improving your patient's health and experience, your practice will see improved satisfaction scores among patients and their families.
These scores can boost the reputation of your practice, leading to an increase in patients wanting that high level of care you can provide.
Improved Employee Morale
One of the biggest reasons people choose to work in the healthcare industry is that they want to help people. The relationships between staff and patients are at the core of the patient-centered care model.
As your practice provides a greater quality of care and improves patient satisfaction, those relationships deepen, and the morale of your practice improves.
A happier staff increases productivity in the workplace.
Increased Revenue
While the benefits may be mostly intangible, you will see an impact on your bottom line through increased efficiencies, improved resource allocations, and a reduction in expenses.
With an intuitive EHR and thorough patient-centered care plan, each touch point the patient has with your practice becomes seamless.
While you're providing a higher quality of care to your patient, you're also reducing the amount of time spent on each patient, allowing your practice to treat more patients.
An increase in patients means an increase in revenue.
Patient-Centered Health for Value-Based Care
Personalized treatment can be key to implementing value-based care, which aims to address specific quality performance metrics. Much of this can be addressed through preventive measures, such as chronic disease management or behavioral health therapies.
Learn how care management programs, such as Chronic Care Management (CCM), can help your practice transition to value-based patient service. With CCM, you can effectively engage patients through telehealth and proactively treat diabetes, heart disease, and hypothyroidism through lifestyle changes and medication management.