Behavioral Health Integration: Features, Benefits, and Getting Started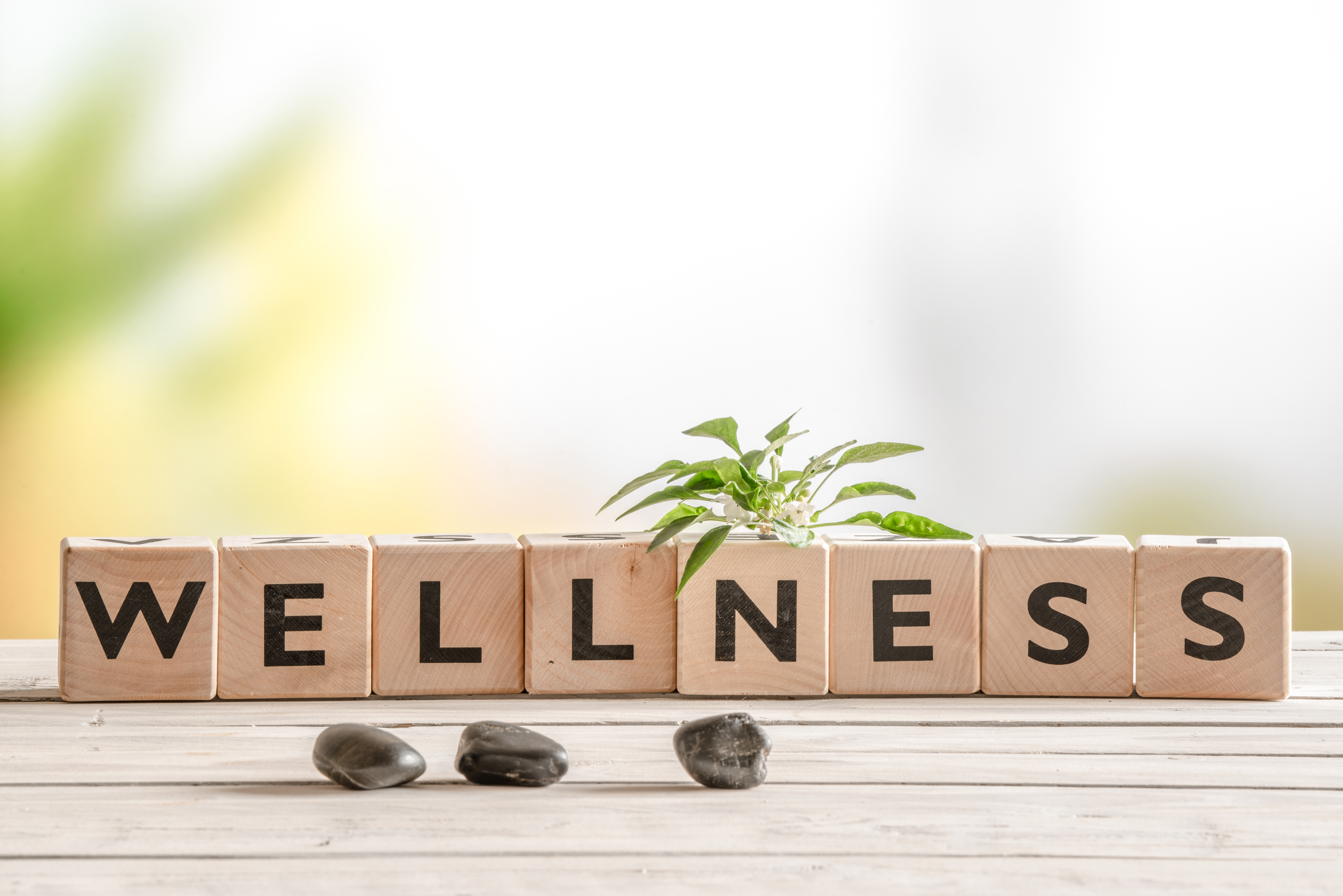 Subscribe
Did you know that 20% of your patients may have conditions you could not be treating?
Behavioral health conditions are extremely common, affecting nearly one of five Americans and leading to health care costs of $57 billion a year, which is on par with cancer.
Integrating behavioral health care with primary care is now widely considered an effective strategy for improving outcomes for the millions of Americans with mental or behavioral health conditions.
At ThoroughCare, we have helped hundreds of providers implement BHI at their practice with intuitive, clinician friendly software and service.
Understanding Behavioral Health Integration (BHI) begins by understanding behavioral health.
Behavioral health is an umbrella term that encompasses mental health, substance abuse conditions, common life stressors, stress-related physical symptoms, and general health behaviors.
BHI blends care of those behavioral health factors with medical conditions, serving as a core function of a patient-centered care plan.
In treating patients, medical and behavioral health clinicians work together as a team, providing better coordination and communication while working toward common health goals.
In this article, we'll walk through what BHI is, the benefits of it, and lay out a framework for starting your own BHI program.
What Is BHI?
General BHI is a monthly service provided using BHI models of care that include "core" service elements.
These elements can include systematic assessment and monitoring, care plan revision for patients whose condition is not improving adequately, and a continuous relationship with a designated care team member.
Unlike the Psychiatric Collaborative Care Model, the General BHI model of care does not involve a psychiatric consultant, nor a behavioral health care manager (although such personnel may furnish General BHI services).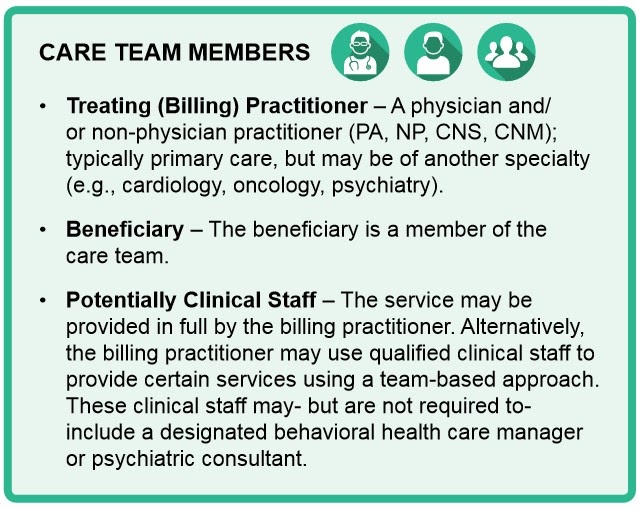 The General BHI Service Components include:
Initial assessment
Initiating visit (if required, separately billed)
Administration of applicable validated rating scale(s)
Systematic assessment and monitoring, using applicable validated clinical rating scales
Care planning by the primary care team jointly with the beneficiary, with care plan revision for patients whose condition is not improving
Facilitation and coordination of behavioral health treatment
Continuous relationship with a designated member of the care team
Provider Benefits
By implementing BHI into your practice, you open yourself up to a few benefits, including added revenue.
Added Expertise
Medical providers such as physicians or non-physician practitioners are not behavioral health experts.
Oftentimes, these providers appreciate having behavioral health partners available that can provide such expertise, helping the medical team with problems they don't have time or training to address.
Financial Reimbursement
As discussed, BHI programs can be leveraged in combination with other high-value Medicare preventative, wellness, and care coordinator programs.
BHI will reimburse doctors, on average, $48 per patient per month for 20 minutes of non-face-to-face care management services.
The average single-doctor practice can generate between $6,500 and $7,000 per month through this initiative.
Patient Benefits
Did you know that 80% of people with a behavioral health disorder will visit a primary care provider at least once per year? A BHI program can serve a larger portion of your patients than you realize, providing ample benefits to them as well.
Patient Convenience
It's an unfortunate reality that mental health still carries a negative stigma. Through BHI, behavioral health providers and physicians work together, often in the same setting.
This provides a high level of convenience for patients, as their provider serves as a "one-stop shop" for all their health needs. Whether it's stress, depression, substance abuse, or a debilitating chronic condition, the patient is able to be treated in the same location.
This provides a more socially acceptable and easier access to the behavioral health care the patient needs, in an environment they are more comfortable with.
Chronic Condition Improvement
Behavioral health and physical health are interlinked. Both conditions often act as a driver for one another, increasing the risk that a person with a behavioral health disorder will develop a chronic disease, or vice versa.
Since many chronic conditions are rooted in lifestyle factors, they can also be compounded by behavioral health issues.
By addressing behavioral health concerns through BHI, patients find it easier to manage, improve, and successfully treat chronic conditions.
Having a Chronic Care Management (CCM) program in place to work in conjunction with BHI provides a ton of value to both you and your patients.
Getting BHI Started at Your Practice
There are a number of ways to integrate behavioral health services with a primary care practice. In doing so, you'll want to consider the following of your own practice first:
Why are you implementing BHI?
There are a number of reasons providers implement BHI into their practice.
You could be looking for improved health outcomes of your patients, increased patient satisfaction, increased provider/staff satisfaction, financial incentives for quality care, or cost savings, just to name a few.
What will the scope of your BHI program be?
To implement successfully, you'll want to plan thoroughly. Knowing the number of patients you'll be able to serve with the program is only the first step.
What are all the services you'll offer? What services can you refer patients to?
Asking these questions and understanding the full scope of your BHI program will help you and your staff be successful.
Developing a Pathway for Integration
Once the vision of your BHI program is shaped, you'll need to create a plan. This plan should consider the following:
Goal Setting
You'll want to identify your target patient population. Consider their demographics and the type of clinical problems represented in your patients. This will help you clarify what behavioral health services could be most impactful.
Knowing which services you will provide based upon the needs of your patient population will allow you to set realistic, attainable goals for your practice.
Assessment of Resources
Consider the current available resources of your practice. You'll want to examine some of the following factors:
Geography - are there other practices nearby? What community resources are available to your patients?
Office Space - where are patients being seen? Is there designated space for collaboration and care planning? Are there any physical barriers/limitations with your facilities?
Staff Support - ensure that leadership and staff are bought in and aligned throughout the process. Who needs to be included in decision making? What training will need to be provided to staff? Will new staff need to be hired?
Shared workflows - sharing care plans and health records is vital to the success of BHI. Will your community partners participate in that? Do you have good relationships with said partners?
Financial - what financial resources are available? Can the practice afford the startup costs required to implement a BHI program?
Technology - what technological resources are available to your staff? How will technology be incorporated into care planning for your patients?
That last factor is often an important one to consider in having an efficient and effective BHI program. Having an intuitive software to manage your BHI program provides you with an easy way to bring behavioral health services in-house.
We know shopping for care management software can be a burden. That is why we've developed a FREE buyer's guide designed to ease the buying process for you, equipping you with the knowledge needed to select the best care management software for your practice.
Thoroughcare's BHI platform is one such software, and is designed with clinicians in mind.
With ThoroughCare, providers get:
Your own secure, HIPAA-compliant software portal
Unlimited users and patients
Live BHI Dashboard with real-time stats
Patient-centered BHI Care Plan
Screening Assessments that score automatically using clinical-validated programs
Generates unique patient printable reports
Tech support via email and phone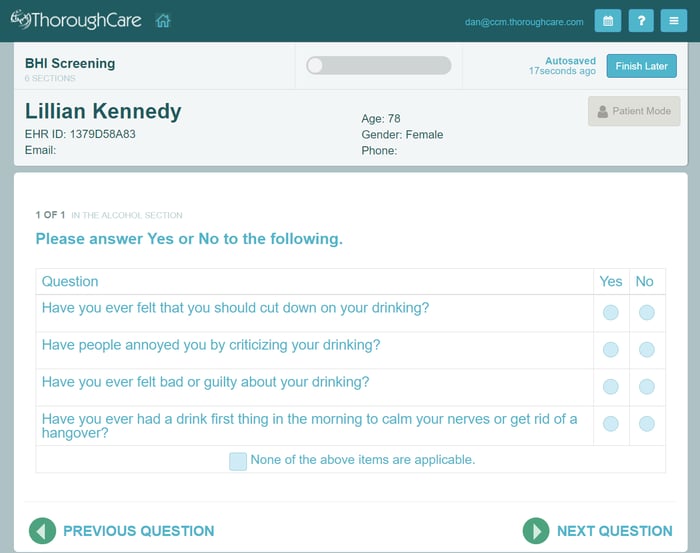 Does BHI sound like a good fit for your practice? Discover more about how ThoroughCare can help you start your own BHI program today.