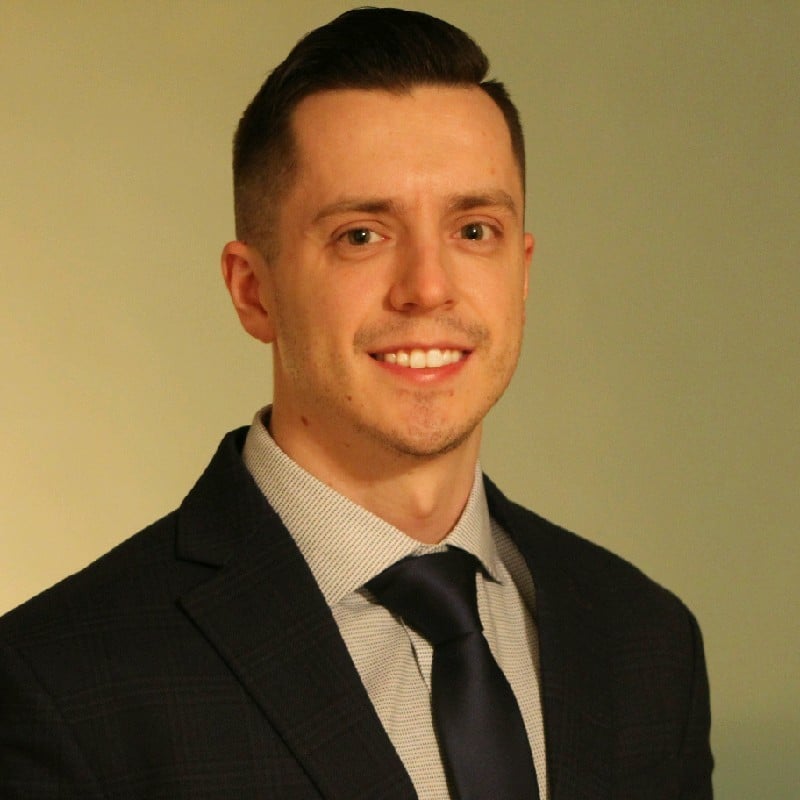 Transitional Care Management: Features, Benefits, and Getting Started
30 days.
That is a critical time frame for patients with moderate or high-complexity medical issues after they have been discharged from an inpatient setting, such as a hospital.
During this period, chances of readmission are increased if proper transition and quality of care is not provided.
Transitional Care Management (TCM) is an initiative started by the Centers for Medicare and Medicaid (CMS) to provide patients with services involving a transition of care during those 30 days after discharge from one of the following settings:
Inpatient acute care hospital
Inpatient psychiatric hospital
Long-term care hospital
Nursing home
Inpatient rehabilitation center
Hospital outpatient observation/partial hospitalization
TCM is designed for primary care doctors and specialists, as well as non-qualifying medical practitioners, to provide care to these types of patients. It's a vital service that aims to eliminate gaps in patient care and readmission during critical periods.
The result? Patients can see as high as an 86% decrease in odds of readmission compared with patients who did not receive TCM. Through our intuitive software, we've helped many clinicians deliver better quality of care to their patients, including through the implementation of TCM programs.
Below we'll expound upon the details of TCM, its benefits, and put you on a path to starting your very own TCM program.
The Three Components of TCM
As discussed above, we know that TCM involves services provided to a moderate-to-high complexity patient within 30 days of discharge. But what are those services? Let's take a look.
There are three components of TCM that must be furnished.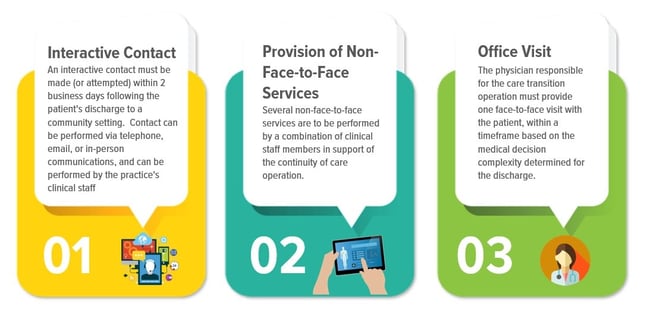 Interactive Contact
CMS rules require an interactive contact to be made with the beneficiary and/or caregiver, as appropriate, within 2 business days after the beneficiary's discharge. The contact can be made by telephone, email, or face-to-face.
The provider or clinical staff can make contact with the patient, provided they have the capacity for timely interactive communication in addressing patient status and needs.
For more information about interactive contacts, refer to the CPT Codebook available from the American Medical Association.
CMS indicates that attempts to communicate should continue after the first two attempts in the required 2 business days until they are successful. If you are unable to make contact after two or more separate attempts in a timely manner and document them in the medical record, you may report the service (provided all other TCM criteria are met).
Non Face-To-Face Services
CMS requires the provision of non-face-to-face services to the patient, unless you determine that they are not medically indicated or needed. Your clinical staff can also provide certain non-face-to-face services under your direction.

Retrieval and review of patient discharge summaries or other discharge information
Interact with healthcare professionals and/or care team members who will take responsibility for supporting care of the patient's problems
Provide education to necessary care team members
Establish referrals and arrange for community resources (as needed)
Support scheduling activities for required follow-ups with necessary providers/services

Identify and communicate with necessary agencies, health resources and community services
Educate necessary care team members in areas including self-management, independent living and ADL's
Assess/Support treatment regimen adherence, including medication management
Assist patients and/or non-clinical care team members in accessing care services
A Face-To-Face Visit
Finally, CMS requires you to provide one face-to-face visit within certain timeframes. CMS uses two Current Procedural Terminology (CPT) codes to:
CPT Code 99495 – Transitional care management services with moderate medical decision complexity (face-to-face visit within 14 days of discharge)
CPT Code 99496 – Transitional care management services with high medical decision complexity (face-to-face visit within 7 days of discharge)
Please note that the face-to-face visits are part of the TCM service and should not be reported separately.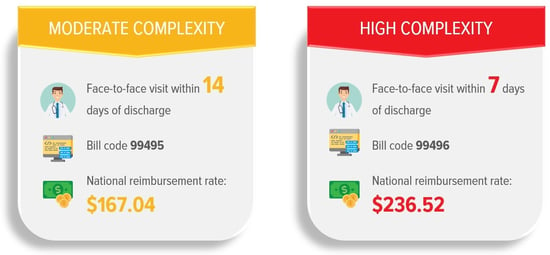 As you can see in the CPT Codes above, the code you use depends on the level of medical decision making. Medical decision making refers to the complexity of establishing a diagnosis and/or selecting a care management option, which is determined by the following factors:
How many possible diagnoses and/or the amount of care management options need be considered
The breadth and/or complexity of medical records, diagnostic tests, and/or other information that needs to be acquired and analyzed
The risk of significant complications, morbidity, and/or mortality as well as comorbidities associated with the patient's presenting problem(s), the diagnostic procedure(s), and/or the possible management options
The table below shows the elements for each level of medical decision making. In order to qualify for a given type of medical decision making, two of the three elements must either be met or exceeded.

Provider Benefits
While TCM is an excellent service that focuses on increasing the quality of health outcomes for patients, providers also stand to see a few benefits from providing such care.
Reduced Readmissions
As we mentioned earlier, the goal of TCM is to reduce the rate of readmissions and improve health outcomes for patients. Data shows that TCM is effective at doing so.
Hospital readmissions cost Medicare about $26 billion annually, with $17 billion of that spent on avoidable hospital trips after discharge. TCM can greatly reduce these costs to our healthcare system.
Additionally, CMS has implemented value-based penalties for excessive 30-day hospital readmission rates. In 2017, CMS penalized over 2,500 hospitals more than $564 million for those excessive readmission rates.
By reducing readmissions, providers can reduce costs for themselves, for Medicare, and for patients.
Higher Quality of Care
More and more, preventable readmission rates are being used as a quality indicator. Both commercial payers and consumers (patients) are using those rates to judge the quality of the provider and a lower perceived value by patients can affect the bottom line of a practice.
Financial Reimbursement
As shown above, the national average for moderately complex care is $167.04 per patient per month, while the rate for high complexity is $236.52.
The financial incentives of TCM are clear. When combined with the reduction in associated costs with readmissions and less hospital and office visits, providers stand to improve their bottom line.
As an example, providing moderately complex TCM services for 10 patients in a month can net your practice an additional $1,670 per month, and over $20,000 in a year.
Chronic Care Management (CCM) Is Billable With TCM
Previously, Medicare would not reimburse for both CCM and TCM services in the same month.
It now does.
This change allows for dual reimbursement for the same patient when "reasonable and necessary."
Implementing TCM At Your Practice
When you combine TCM's financial incentives for providers with the health benefits for the patients, implementing a TCM program becomes an easy decision.
Assisting with a seamless transition from a hospital, nursing facility or other qualifying healthcare setting is rewarding for both the patient and provider.
With these benefits, the decision to implement a TCM program becomes all the more easy. After all, your practice, like TCM, is focused on fostering the optimal health and wellbeing of your patients. And you'll get the added benefit of provider reimbursement and a reduction in overall healthcare costs.
Having software that is tailored to TCM's nuances can help you manage these programs efficiently and effectively. We know that looking for the right care management software can be a burden, which is why we developed a FREE buyer's guide to help you through the process.
ThoroughCare's TCM features are designed by clinicians and for clinicians, following a workflow supported by the American Academy of Family Physicians.
With our software, you can reduce unnecessary readmissions and increase revenue through features that are simple and intuitive.