Annual Wellness Visits: Elements and Benefits of Starting Your Own Program

Subscribe
Annual Wellness Visits (AWVs) offer providers a multitude of benefits, including increased revenues, improved patient health, and by extension, improved reputation.
A 2018 study in the journal Health Affairs found that less than 20% of all eligible Medicare patients received AWVs, with more than half of primary care practices offering no AWVs to their Medicare patients.
With clear benefits, why are more providers not offering AWVs?
It mostly comes down to a lack of awareness and information.
ThoroughCare sees the tremendous value afforded to providers that implement AWVs, and that's why we've developed an excellent tool for providers to complete AWVs in an efficient and effective manner.
In this article, we'll explain the ins and outs of AWVs, why they're important, and how you can make an immediate positive impact on your practice by implementing them.
The 3 Types of AWVs
An AWV is essentially a detailed, question-based assessment of a patient's current health and risk factors and is free for patients with Medicare Part B.
Once per year, patients meet with a clinician to discuss their health history, answer any questions they may have about their health, and identify at-risk areas. Follow-ups can be provided after to help reduce health risk factors identified in AWVs.
The overarching goal of AWVs is to create a complete personal and family health history for patients and help prevent future health problems.
Do NOT confuse AWVs with a routine physical though. AWVs do not include a head-to-toe physical examination that you'll find with routine physicals.
Health care professionals who may administer and bill AWV include:
Physician
Physician Assistant
Nurse Practitioner
Clinical Nurse Specialist
Medical Professional (includes health educators, registered dieticians or nutrition professionals, or other licensed practitioners)
Non-physicians must be legally authorized and qualified to provide AWVs in the state in which the services are rendered
There are three types of AWVs: Initial Preventive Physical Examination (IPPE or more commonly known as the Welcome to Medicare visit), Initial AWV (IAWV), and Subsequent AWV.
While they are all mostly similar, we'll briefly cover the slight differences below.
1) Welcome to Medicare/Initial Preventive Physical Examination (IPPE)
This is a 'once in a lifetime' benefit patients can choose to receive when they are new to Medicare.
They must receive this visit within the first 12 months of their Medicare Part B enrollment.
If 12 months have passed and the patient has not used this benefit, they are no longer eligible to receive it. Instead, they would be eligible for an Initial Annual Wellness visit.
During the visit, providers should cover the following with patients:
Check height, weight, blood pressure, body mass index (BMI), and vision
Review medical and social history
Review for mental health conditions
Review a patient's ability to function safely in the home and community
Provide the patient with information, counseling, and referrals related to any identified risk factors and/or other health needs
Provide the patient with information about preventive services they may need
2) Initial Annual Wellness Visit
As stated, this is mostly similar to what you will have provided the patient in their IPPE. A patient is eligible for an Initial Annual Wellness Visit if 11 full calendar months have passed since their IPPE (Welcome to Medicare Visit).
If they didn't use their IPPE within the first year after Medicare enrollment, they are likely eligible for their Initial Annual Wellness Visit. That said, if your patient did participate in an IPPE, they must still complete an IAWV to receive subsequent wellness checks.
3) Subsequent Annual Wellness Visit
The Subsequent Annual Wellness Visit is offered to Medicare patients every year but only after they have completed an Initial Annual Wellness Visit.
Patients are eligible for this visit 11 full calendar months after their Initial Annual Wellness Visit.
You'll go over the following with patients:
Check weight, blood pressure, and other routine measurements
Update the patient's HRA
Update family and medical history
Update the patient's list of current medical providers/suppliers
Update the patient's written screening schedule
Screen for cognitive issues
Provide health advice and referrals as needed
What is Included in a Health Risk Assessment?
The Centers for Medicare and Medicaid Services (CMS) requires providers to complete a HRA with a patient before that patient can be given an Annual Wellness Visit Exam (the HRA leads into the exam portion).
An HRA is a screening tool that helps patients identify and understand their health risks and monitor their health over time.
The HRA should take no more than 20 minutes to complete, and includes a questionnaire, an assessment of the patient's health status, and personalized feedback from the care manager about actions that can be taken to reduce risks, maintain health, and prevent disease.
HRAs include questions covering the following topics:
Demographics – age, gender, etc.
Self-assessment of health/lifestyle – exercise, eating habits, alcohol and tobacco use
Activities of daily living (ADLs) – dressing, bathing, walking; including instrumental ADLs like shopping, housekeeping, medication management, etc.
Emotional health – mood, stress, life events
Physical health – weight, blood pressure, cholesterol levels
Medical history – current and previous health conditions
The HRA may be completed before or during the AWV. HRAs may also be completed online (using a PC, tablet, or smartphone), as a paper form, or over the phone.
The feedback a patient receives is delivered in an electronic or printed report. When patients return for their AWVs, this report can be updated and amended as needed.
Provider Benefits
There is ample opportunity for practices to implement AWVs and reap the rewards not just for themselves, but for their patients as well.
Below we'll examine a few of the benefits AWVs can offer practices.
Increased Revenues
CMS allows practices to bill code G0402 for an IPPE with an average national reimbursement of $168.89.
Afterwards, practices can bill code G0438 for an IAWV with an average national reimbursement of $178.28.
CMS allows practices to bill code G0439 for Subsequent AWVs with an average national reimbursement of $117.86.
The rates for IPPEs, IAWVs, and Subsequent AWVs are higher than the rates CMS allows practices to bill for traditional problem-based visits, making them highly profitable programs for providers.
Another way AWVs can lead to an increase in revenue for your practice is through the nature of the AWV examination itself.
While conducting an AWV, you may find the patient requires additional tests, screenings, or other forms of care management, such as Chronic Care Management (CCM), leading to additional revenue streams.
Personalized Care Plans
AWVs can run around 1 hour in length, giving providers ample time to give the patient a full screening and to develop a personalized care plan for the patient.
This extra time affords healthcare professionals to provide services they otherwise not be able to during a more urgent, illness-focused office visit.
These services include:
Reviewing/updating the patient's medical history
Identifying other providers involved in the patient's care
Summarizing the patient's acute symptoms/care opportunities
These elements will allow you to better treat the patient moving forward. By thoroughly examining the patient physiologically, psychologically, and behaviorally, you can accurately gauge a patient's acute symptoms and transition them to CCM if applicable.
CCM Transitioning
While some Medicare patients may find the AWV suits their health needs, patients with more acute symptoms may require a more intensive care plan.
CMS estimates that about 70% of Medicare beneficiaries have two or more chronic conditions, qualifying them to receive CCM.
The benefits of CCM, like AWVs, are plentiful and provide practices with substantial additional reimbursement opportunities.
Getting Patient Buy-In
Medicare coverage can often be overwhelming and confusing for elderly patients. It's up to you as the provider to inform your patients of services available, such as an AWV.
After identifying and informing eligible patients, helping the patient understand the benefits they'll see from an AWV can go a long way towards getting them to engage.
When meeting with eligible patients, you'll want to lay out these benefits:
Cost Savings
One big benefit is that an AWV is covered under Medicare at no additional cost to the patient, whereas a routine physical may require the patient to pay out-of-pocket.
Full Wellness Screening
AWVs include assessments of patients' physical health status, psychosocial risks, behavioral risks, cognitive function, functional status, and biometric health indicators such as blood pressure and body mass index.
Tailored Personal Care Plan
AWVs conclude with a personalized plan of preventative health for the next 5-10 years that is tailored to their needs with lifestyle interventions and preventive care services if applicable.
Engagement in Patient's Own Health
AWVs can increase a patient's knowledge of their own health, and by extension, actively engage them in their healthcare.
If chronic conditions are identified during the AWV, a Chronic Care Management program can be recommended for increased coordination and engagement of the patient's healthcare plan.
Choosing The Right Software for a Successful AWV Program
To implement AWVs properly and leverage them to your advantage takes time and careful planning, but is easily doable if done right.
Two of the biggest reasons we've come across for why providers don't provide AWVs to their patients is that they think it's too complicated and they don't feel it's worth the time or money.
We hope you'll see from this article that not only is worth the time and money, but it's not overly complicated.
Using an intuitive software to aid your care managers in providing AWVs makes the process painless. While your EHR may provide a platform or template to do this, some can be clunky and inefficient.
We know shopping for care management software can be a burden. Providers want to know what the benefits are, what features to look for, and how to choose the right options.
That is why we've developed a FREE buyer's guide designed to ease the buying process for you, equipping you with the knowledge needed to select the best care management software for your practice.
ThoroughCare has helped many providers start AWV programs with our intuitive, user-friendly software.
Our solution automates the HRA and AWV process, providing efficiency and significantly reducing physician time required.
Below is a breakdown of ThoroughCare's AWV solution: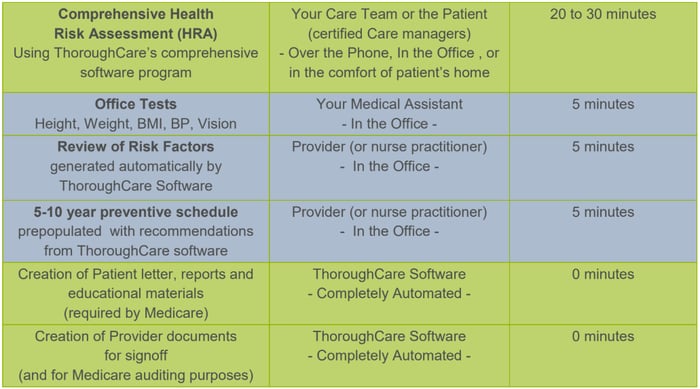 Learn more about how ThoroughCare can add another revenue stream to your practice through our Annual Wellness Visit platform.