Annual Wellness Visit | CPT codes
2023 Annual Wellness Visit CPT Codes: G0402, G0438, G0439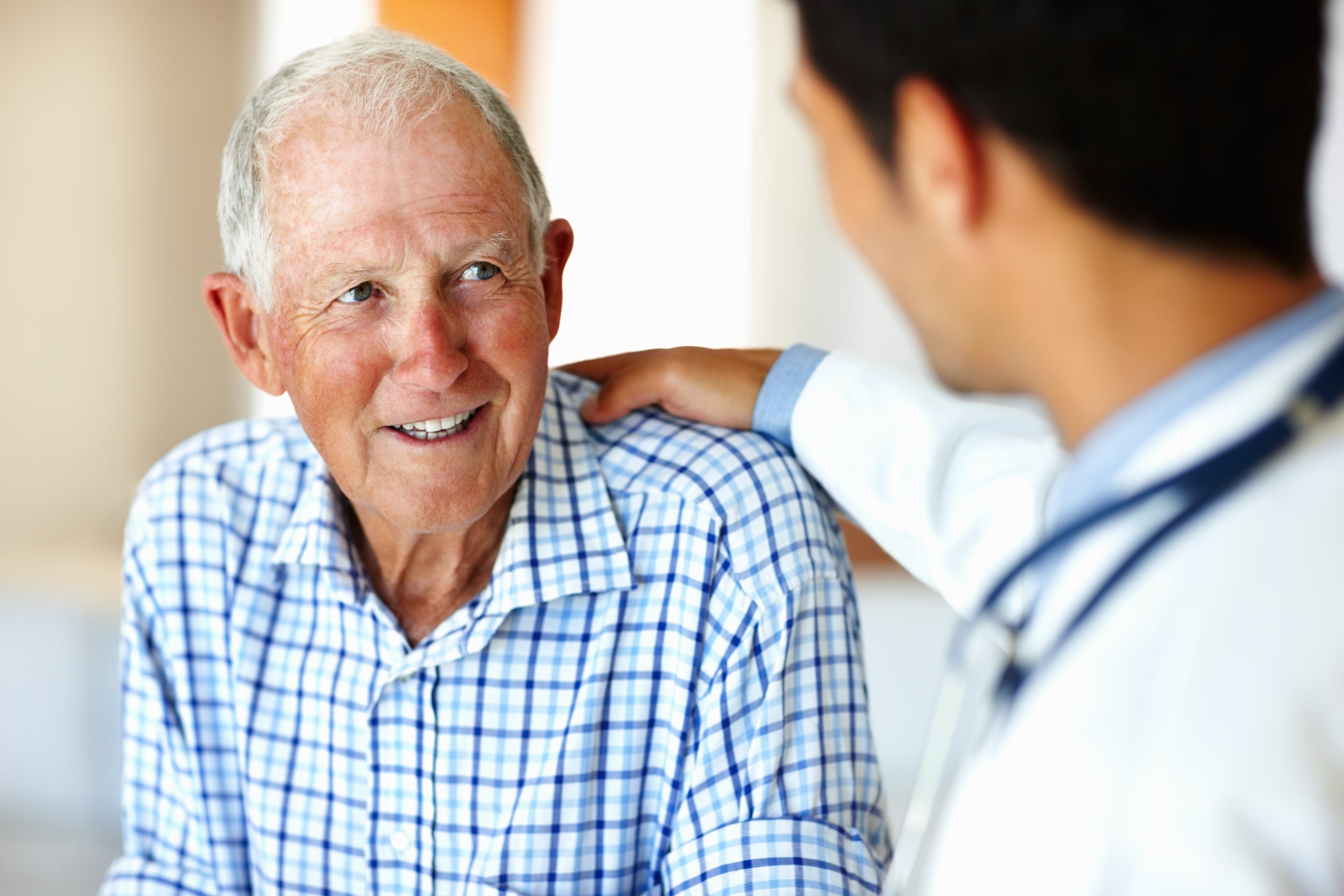 Subscribe
Understanding the billing codes for Medicare Annual Wellness Visits (AWVs) can provide a better idea of what is expected, both by the patient and by the payer. Understanding billing codes may also help you project revenues and optimize your staff's capacity.
At ThoroughCare, we've worked with clinics and physician practices nationwide to help them streamline and capture Medicare reimbursements. Our software solution assists with the rules and regulations for AWVs while also tracking all activities related to providing the program and easing the difficulties of billing.
What are Annual Wellness Visits?
Annual Wellness Visits are free for anyone covered by Medicare Part B and include a yearly assessment of a patient's health and overall well-being. They are designed not as a yearly physical examination, but as a critical care marker that bridges gaps in the yearly physical exam while developing and updating a patient's personalized plan of care.
That personalized care plan is designed to help prevent disease and disability and is based on the patient's current health and determined risk factors. The overall goal is to establish a record of the patient's physical and mental well-being for the purpose of preventive health planning.
AWVs Include:
A health risk assessment (HRA)

A review and update of medical and family history

A review of current providers, prescriptions/medications, and durable medical equipment suppliers

Height, weight, blood pressure, BMI, and other routine measurements

Personalized health advice, health education, and preventative counseling

A list of identified risk factors, current medical and mental health conditions, and recommended treatment options

A cognitive impairment screening

A five to 10-year screening schedule for

appropriate preventive services

A review of the patient's functional ability and level of safety, including screening for hearing impairments, risk of falling, activities of daily living, and level of home safety

Identification of patients at risk for alcohol, tobacco, and opioid abuse
There are three types of wellness visits: Initial Preventive Physical Examination (IPPE), an Initial Annual Wellness Visit, and the Subsequent Annual Wellness Visit. Each entails a different billing code as well as specific qualifiers for each program.
Initial Preventive Physical Examination: Patients may only receive this benefit within the first 12 months of their Medicare enrollment. Commonly referred to as the "welcome to Medicare visit," it is considered a once in a lifetime assessment and after the initial eligibility period, the patient cannot receive an IPPE. It is also dependent on the HRA.
Initial Annual Wellness Visits: Similar to an IPPE, except it is available to a patient after 11 months of Medicare enrollment. This is for patients that miss their window for an IPPE. However, if the patient does complete an IPPE, they must still complete the Initial Annual Wellness Visit. This screening also includes an optional cognitive exam and end-of-life planning.
Subsequent Annual Wellness Visit: Is the yearly follow-up to an Initial Annual Wellness Visit. Eleven full months after the Initial Annual Wellness Visit, a patient can attend these visits to modify and maintain their preventive care plan, based on how their health is at any given time.
As the patient's health evolves over time, a doctor may use the Subsequent Annual Wellness Visit to guide them toward other Medicare preventive programs, such as Chronic Care Management (CCM), Behavioral Health Integration (BHI), or Remote Patient Monitoring (RPM).
Billing Medicare Annual Wellness Visits
Five items are required when submitting a claim through Centers for Medicare & Medicaid Services (CMS):
A CPT Code for the specific type of AWV provided

An ICD-10 code for a general adult medical examination (Z00.00)

Date of service

Place of service (most office in-office or telehealth)

Submit National Provider Identifier (NPI) number
It is helpful to know the care manager assigned to a patient in case of an audit.
Three Steps to Bill for AWVs:
Verify CMS requirements were met

Submit claims to CMS annually

Determine there are no conflicting billing codes
CPT Codes for Annual Wellness Visits
The types of AWVs are reflected in the CPT codes. The crucial qualifying determinant is when a certain AWV can be provided and billed.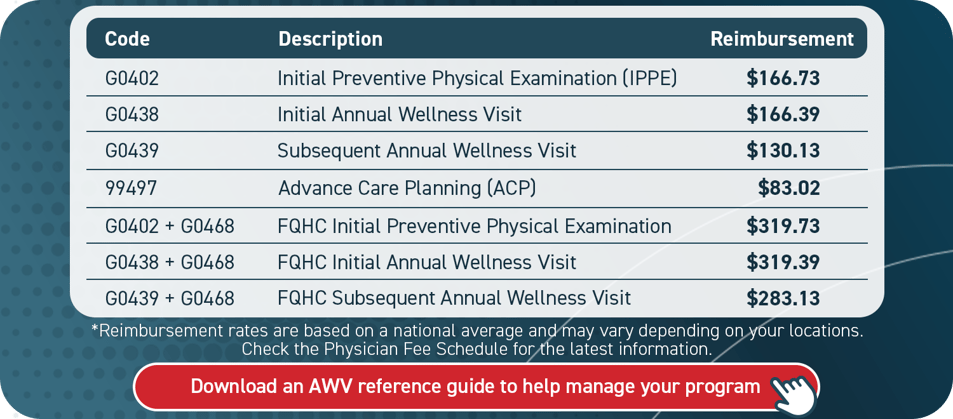 AWVs for Federally Qualified Health Centers (FQHC) and Advance Care Planning (ACP)
As shown in the chart above, FQHC are able to bill for AWVs, although they utilize additional codes.
In addition to the standard CPT codes associated with AWVs, FQHC may use a special add-on code (G0468) that will allow them to receive additional reimbursement. For example, if an FQHC were to provide an IPPE, the clinic would bill for G0402 + G0468 for a total average reimbursement of $322. This coding indicates to CMS that the service is being provided through an FQHC. The good news is that these organizations receive much higher average reimbursement rates
Advance care planning (ACP) is not a type of AWV, but it can play a meaningful part in the program.
ACP is a formal process to understand the patient's preferences for potential and future medical care, such as end-of-life planning, a living will, and power of attorney. It is an opportunity to craft a patient-centered care plan and an AWV drives just that opportunity. Providers often complete an ACP during an AWV.
ACP is fully covered for patients under Medicare Part B if it is conducted during the AWV. It is a free service that is an optional element of AWVs. Favorably, it is reimbursable for your practice and can be billed in concurrence with an AWV using CPT code 99497 for the first 30 minutes and 99498 for subsequent 30-minute billing.
Streamline Medicare Annual Wellness Visits
Knowing the CPT codes for AWVs can help your practice project revenue and optimize your care team's capacity. But to deliver and document wellness visits utilizing best practices, a system needs to be in place to manage your program.
A practical resource, such as care coordination software, secures key details from being lost or overlooked. This promotes efficiency for you and your staff, which subsequently helps patients to succeed. Care coordination software can streamline the creation of patient care plans, support staff workflows, and simplify billing. ThoroughCare's software solution offers these exact features.
Reimbursement rates are based on a national average and may vary depending on your location. Check the Physician Fee Schedule for the latest information.