How ThoroughCare Integrates With Your EHR: A Comprehensive Guide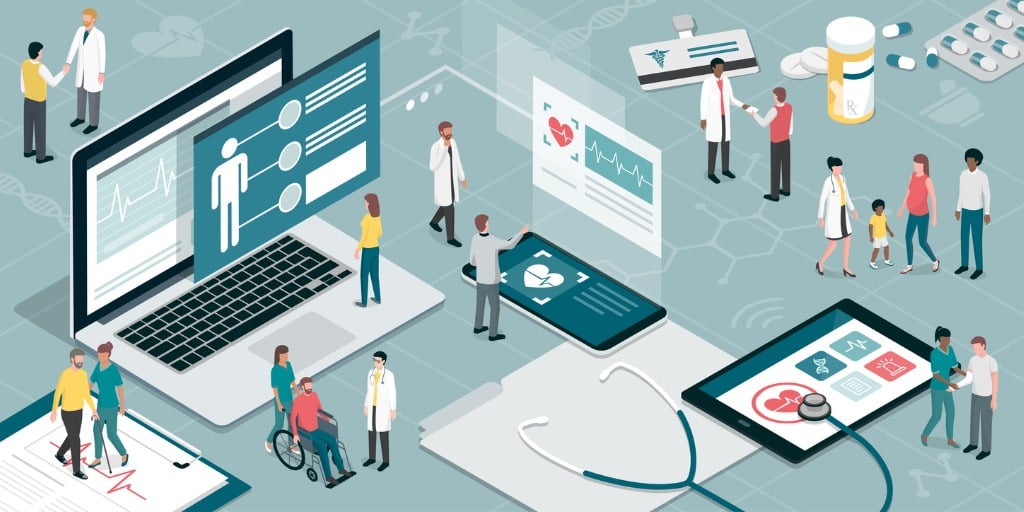 Subscribe
Are you worried about integrating your existing Electronic Health Record (EHR) with ThoroughCare? Don't be!
One of the most common questions we get from practices is, "Can ThoroughCare be used with my existing EHR?"
And the answer, of course, is: YES.
If you have an existing EHR, ThoroughCare works harmoniously with that EHR as an intuitive supplemental software solution.
What does that mean?
Essentially, your EHR stores all of the patient data, care plans, etc. while ThoroughCare is where you actively manage all that information.
ThoroughCare is a free-standing, cloud-based software where you can manage your programs outside of your EHR.
When you're done managing your patients, we make it easy to share summaries of your work back with your EHR, even if you have an outdated one.
Having worked with more than 550 clinics across the country, we've seen just about every EHR.
Some EHRs are great and some, well, they're not so great. ThoroughCare was founded because EHRs across the industry are clunky, unintuitive, and not built with clinicians in mind.
Below we'll walk you through how ThoroughCare differs from a certified EHR and go into more detail on how our software works with your existing EHR.
How ThoroughCare Differs From A Certified EHR
ThoroughCare is NOT a certified EHR. You'll still need to use an EHR. ThoroughCare is a simple, easy-to-use supplement to your EHR.
An EHR is basically a digital version of the patient's chart. Many software vendors provide EHR solutions to help practices manage their patients and practices.
EHRs typically allow the provider/practice to:
Create, view, and update a patient's medical history
Track diagnoses and treatment plans, and immunizations
View and prescribe medications
View radiology images, lab data, and test results
Schedule and manage appointments for a visit
Automate billing and submit claims
In managing most care coordination and wellness programs, you'll still need to use your EHR. Those programs include:
You may be asking if you need your EHR to manage most of these programs, why do you need ThoroughCare?
Well, these programs all have unique requirements that might be difficult (or impossible) to do in your EHR. Some examples are:
Time Logging and Tracking
Creating a patient-centered care plan
Creating reports and program summaries to give to patients
Detailed dashboards and worklists to manage your program participants
Reviewing patient device data and triggering alerts
Since ThoroughCare's solutions were specifically designed to help with these programs, it can be a great addition to your EHR.
We've helped clinics across the country easily implement and manage these programs while increasing their revenues by making the billing process painless.
ThoroughCare is just one of many care management software solutions on the market. We know shopping for the best software can be a burden, finding it difficult to know what the benefits are, what features to look for, and how to choose the right options.
That is why we've developed a FREE buyer's guide designed to ease the buying process for you, equipping you with the knowledge needed to select the best care management software for your practice.
How ThoroughCare Works With Your Existing EHR
So, how exactly does our software work with your existing EHR? We'll go into more detail below.
Loading patients into ThoroughCare
We've never come across an EHR that didn't have the ability to export a patient list to a CSV file. Even the worst EHRs we've seen have this feature.
Once the data is in a CSV file, you can format this document and securely provide it to us to be uploaded into your ThoroughCare site.
An extensive amount of data can be uploaded into your site through our CSV import process, including patient demographics, Medicare information, medications, contact information, insurance information, and more.
Once our data team loads your CSV file, you'll be able to see all of this information on our platform.
Now your team will be ready to start managing patients within ThoroughCare.
It's that easy!
Easy Report Generation
One of the biggest pain points for practices managing these programs with their own EHR is the end-of-the-month billing time.
The Centers for Medicare and Medicaid have many billing rules and regulations you must follow to stay compliant.
Logging time and making sure you've used the right billing codes can be arduous.
ThoroughCare takes on that burden for you by generating Billing and Claim reports. These reports can be created in real-time based on time and data input into ThoroughCare.
Simply provide them to your biller and they will know exactly what to bill for each month.
You'll also be able to generate PDFs of Summaries for all patients that can be uploaded to your EHR. Not only is this best practice, but it's also required for some programs to make these documents available in the EHR so the staff has access to them 24/7.
As you can see, it's easy to use ThoroughCare to manage your programs regardless of the EHR that you use.
Which EHRs Do We Integrate With?
You may be wondering if ThoroughCare integrates directly with any EHRs. The answer to that question is also YES.
By partnering with certain EHRs, we can connect directly with them, so the information managed in ThoroughCare is populated in real-time with the EHR.
We're proud to be partners with several of the leading EHRs in the country:
Athena Health
Allscripts
Dr. Chrono
Elation
EPIC
Ready For A Better Care Management Experience?
As you can see, ThoroughCare is designed to effectively and efficiently work with any EHR.
You can think of us as Cinderella's glass slipper for all EHRs.
We're confident that by using our software, you'll be able to manage these programs in-house more effectively.
We've seen firsthand from practices we work with that it can lead to increased productivity, increased revenues, and improved patient health outcomes.
The best way to see just how much ThoroughCare can help you manage these programs?
Request a software demo with us! After we learn a little bit about your practice, we'll set up a live demo where you can see our software in action.