Tracking Your Value-based Care Trajectory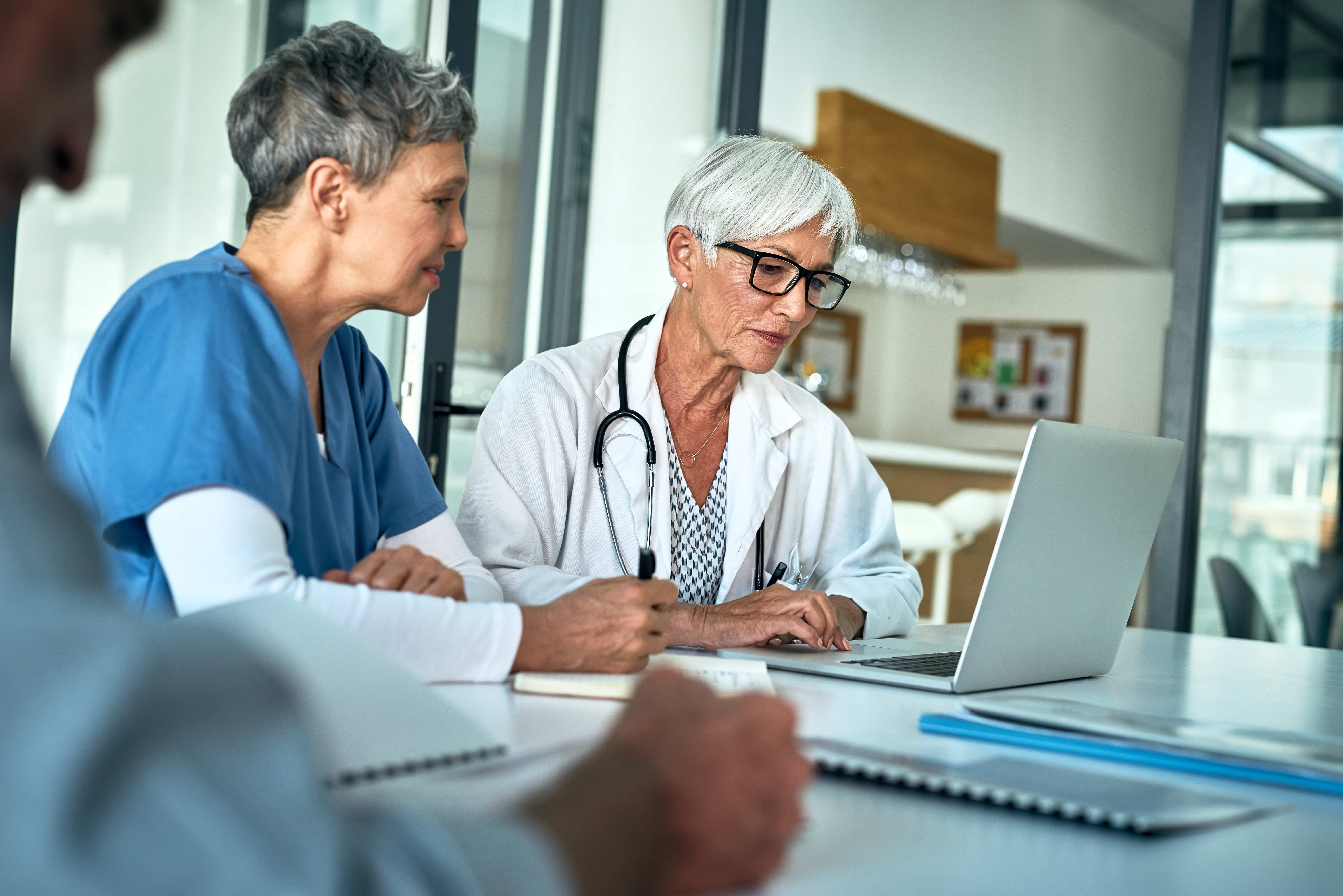 Subscribe
As a component of accountable care, value-based payments reward quality over quantity, compensating providers for achieving positive patient outcomes and reducing costs.
Adopting coordinated, team-based, and person-centered care linked to quality payments is progressively gaining traction. According to the Health Care Payment Learning & Action Network (HCPLAN), the Centers for Medicare & Medicaid Services (CMS) has set a goal to have 100% of traditional Medicare beneficiaries in an accountable care relationship by 2030.
HCPLAN's 2022 APM Measurement report tracks the use of alternative payment models (APMs) by health plans and states. It shows the percentage of payments tied to quality and value in a two-sided risk agreement (Figure 1). This means that the provider receives a portion of savings (upside) and has cuts in payments in missed targets (downside).
It's time for providers to adopt value-based payments
All provider organizations, particularly post-acute care, are faced with the questions of why, when, and how to adopt value-based care.
Delaying this shift could lead to eventual penalties from CMS or other payors.
One possible approach to tackling this challenge could be using fee-for-service programs in a hybrid care model. In an article published by JAMA, researchers discussed the benefits of using this model to account for "clinician time and effort in acute care."
According to HCPLAN's 2022 research, there are three main facilitators of alternative payment model (APM) adoption:
Health plan interest and readiness
Government influence
Provider interest and readiness
It was found that health plans are aligned with and invested in accelerating value-based care acceptance, as shown in their agreement with the following statements:
96% agree/strongly agree that APM adoption will result in a better quality of care
96% agree/strongly agree that APM adoption will result in improved

care coordination

82% agree/strongly agree that APM adoption will result in more affordable care
In addition to health plan support, government influence is increasing as CMS launches new and enhanced value-based programs, such as the redesigned ACO Realizing Equity, Access, and Community Health (ACO REACH) model. This launched in 2022 with more than 130,000 providers and 2.1 million beneficiaries.
Where are we with alternative payment models?
Figure 2 shows HCPLAN's Alternative Payment Model framework with four categories, representing a progression from fee-for-service (FFS) to full population-based payments.
Category 4, specifically Category 4C, represents the most advanced contractual risk.
The 2022 APM Measurement Effort report outlined the percentage of 2021 APM payments across all four categories, including:
Category 1 – fee-for-service: 40.5% of healthcare dollars
Category 2 – payments linked to quality and value: 19.5% of healthcare dollars
Category 3 – APMs built on FFS architecture: 32.6% of healthcare dollars
Category 4 – population-based payments: 7.4% of healthcare dollars
Other research demonstrates an acceleration in value-based care, particularly when looking at Medicare beneficiaries:
700,000 healthcare providers and facilities are participating in one of three value-based payment models
13.2 million beneficiaries are aligned with some value-based care model
However, these results don't speak to an individual physician's interest in value-based care or its strategic value for provider leaders and practice owners.
Choosing the right APM depends on the provider organization type, such as:
A clinician or organization's history and aspirations can help determine an appropriate value-based payment model.
What's your value-based payment plan?
Figure 3 outlines the progressive nature of value-based payment programs, highlighting the increase in provider risk and the corresponding level of transformation across data, technology, and workflows.
Ernst & Young published several value-based care strategies for healthcare executives, giving salient guidance for embarking on and traversing this trajectory.
First, they recommend deciding what organizational type best aligns with value-based care. Second, identify the required capabilities to launch or go deeper into one- or two-sided risk. Third, create a strategic roadmap that guides the next steps. These could include:
Set sights on a specific payment model(s) or value-based care initiative
Consider clear goals for implementation
Invest in necessary capabilities and competencies, such as data analytics, technology and program platforms, workflow design, and staffing
Design an integration and implementation approach that aligns with care and business priorities
Try and test new activities and models, as well as report on outcomes and performance data
Ernst & Young's research has identified several trends driving value-based care investment by payor and provider organizations. And while investment by payors outpaces that of providers, providers are developing capabilities that are more closely aligned with their core operations.
Care management can support value-based models
Running a fee-for-service care management program—whether in support of a value-based contract or as a stand-alone service—offers a strategic asset that can create a fulcrum for leveraging and succeeding in new APMs or higher levels of risk.
Care management programs—like chronic care management or behavioral health integration—require key capabilities and tools across data analytics, operations, technology, team-based care, and evidence-based medicine.
Those same competencies and functions create a strong foundation for any value-based care model. According to McKinsey, "The use of evidence-based medicine, patient engagement, improved health IT, and data analytics are all encouraged under the new payment methods."
As you decide which value-based care models could fit your current or future business and patient service objectives, look at the opportunities through your existing care management proficiencies. Capitalize on those strengths to deliver more efficient, evidence-based care focusing on quality and cost outcomes.
How ThoroughCare supports value-based care
ThoroughCare's intuitive platform can help healthcare organizations use care coordination to succeed in value-based models. ThoroughCare can:
Enhance patient engagement with personalized care planning and SMART goal tracking
Assess and measure social determinants of health with interactive risk assessments
Track and report key performance metrics with comprehensive data analytics
Manage chronic and behavioral health conditions to improve outcomes
Identify gaps in care to maximize value-based payment models
ThoroughCare supports comprehensive integration with leading EHRs, health information exchanges, remote devices, and advance care plans.