What Are the 2022 CPT Codes for Behavioral Health Integration?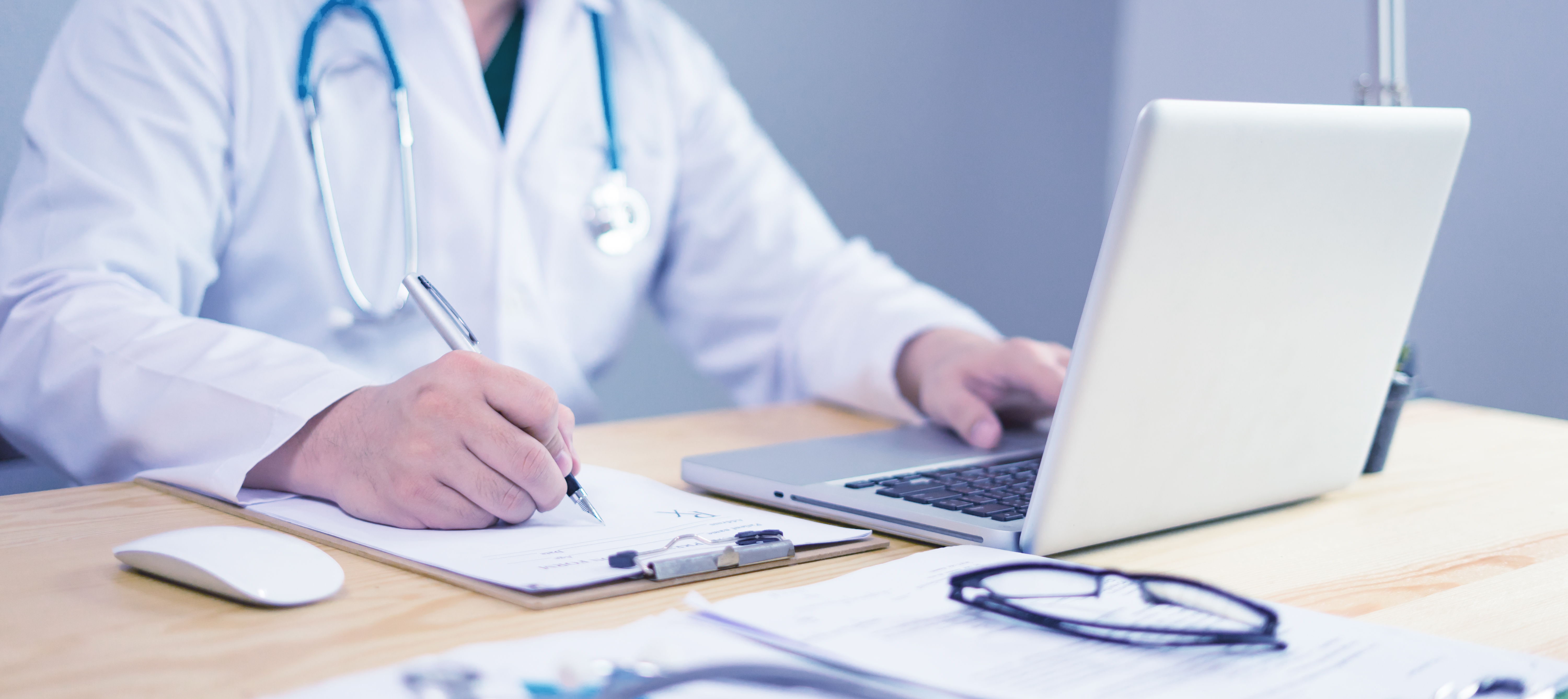 Subscribe
Medical reimbursements are tied to Current Procedural Terminology (CPT) codes. They categorize and specify billing rates and rules for procedures, treatments, and care services.
If you're a medical care provider, you likely know this. But do you know the rates and workflows for Medicare's wellness programs? Like, Behavioral Health Integration (BHI)?
Knowing the billing codes for BHI will give you a better idea of what's expected, both by the patient and Medicare.
Understanding billing codes will also help you project revenues and optimize your staff's capacity. Without this information, you risk disorganization and a clouded outlook.
At ThoroughCare, we've worked with clinics and physician practices across the US to help them streamline and capture Medicare reimbursements.
Our software assists with BHI's rules and regulations, and it tracks all activities related to providing the program, such as screening assessments and care plan creation, making it easier to bill for.
In this article, we'll briefly review the requirements of BHI, as well as the program's CPT codes. We'll also provide an example return-on-investment (ROI) of an effective monitoring program.
With this information, you'll better understand BHI billing expectations and standards. You'll also see how care coordination software can simplify the program.
How Does Behavioral Health Integration Work?
BHI integrates mental health treatment with primary care. The program is an example of care management, similar to Chronic Care Management (CCM).
It is a monthly service based upon several core elements. These include:
A systematic assessment
Continuous patient monitoring
Care plan creation and revision
Facilitation and coordination of behavioral health treatment
A continuous relationship with a designated care team member
BHI is primarily managed by the patient's physician or care manager. That said, a third-party psychiatric consultant or therapist may provide additional services.
Your patient must present at least one behavioral health condition to be eligible for the program. Medicare Part B will cover up to 80% of the program's cost. Other insurances, such as Medicaid or private companies, may also cover this.
How to Bill for Behavioral Health Integration
There are five items required when submitting a claim through CMS:
CPT Codes for each program you're managing for the patient
ICD-10 codes tied to each of the conditions you're managing within that program
Date of service
Place of service
Provider name
While it's not needed, it is helpful to know the care manager assigned to a patient in case you're ever audited: When billing, you'll calculate the time spent with each of your patients monthly.
These are the four steps you'll take when billing:
Verify CMS requirements were met for each patient each month
Submit claims to CMS monthly
Send an invoice to patients receiving CCM services monthly
Make sure there are no conflicting codes that have been billed
CPT Codes for Behavioral Health Integration
For 2023 reimbursement information, click here.
Below, we break down the two types of billing codes for BHI.

If you're a rural health clinic (RHC) or federally qualified health clinic (FQHC), you would use the following code to bill for BHI.

Billing Behavioral Health Integration with Chronic Care Management
Medicare allows your patients to enroll in both its chronic care and behavioral health programs. Together, both offerings can be an effective preventive health solution, working in tandem.
When your patient feels hopeless or unmotivated, treatment of chronic conditions may be more difficult. Many of these conditions take root in lifestyle choices, influenced by a state of mind. Poor behavioral health can compound them, digging a deeper ditch.
If you do enroll a patient in both programs, be sure to receive clear consent from the patient for each enrollment. Medicare will require this information, especially if your practice is audited.
If you're using care coordination software, patient consent will be automatically documented.
As well, it is important that when billing for both BHI and CCM, you record 20 minutes of service for each program. So, 40 minutes total.
That said, it is fine for your patient to participate in one program or the other.
What is the ROI of a Behavioral Health Integration?
The phrase return on investment (ROI) holds a financial connotation, but a "return" isn't entirely dependent on monetary value. General benefits are equally important, especially with regard to a person and their health.
Your patients will benefit from BHI because it places a preventive eye on their well-being. It also expands access to care without the burden of office visits.
Minimizing office or hospital time is a crucial point of value.
By allowing patients to stay at home, there's less pressure on you and your staff, and there are more opportunities for high-risk patients to be seen. This leads to an overall improvement in the quality of care you and your practice provide.
As well, BHI can serve as a vital introduction to mental health services. Your patients may be more comfortable discussing such issues with you, their primary provider, versus a therapist.
On the provider side, both of these benefits play right to the goal of value-based healthcare.
Reduced hospital visits and improved care help satisfy certain performance indicators measured by Medicare. This can help providers sustain or improve their Merit-based Incentive Payment System (MIPS) score, which can raise reimbursement rates.
There's also the added layer of expertise your practice stands to gain.
While your practice may not necessarily be an authority on mental health, you can use BHI as an opportunity to collaborate with a professional who is. Making this connection will only make your practice more valuable in its ability to treat its patients.
How Can Behavioral Health Integration Produce Revenue?
As for BHI reimbursement rates, what is the revenue opportunity of the program?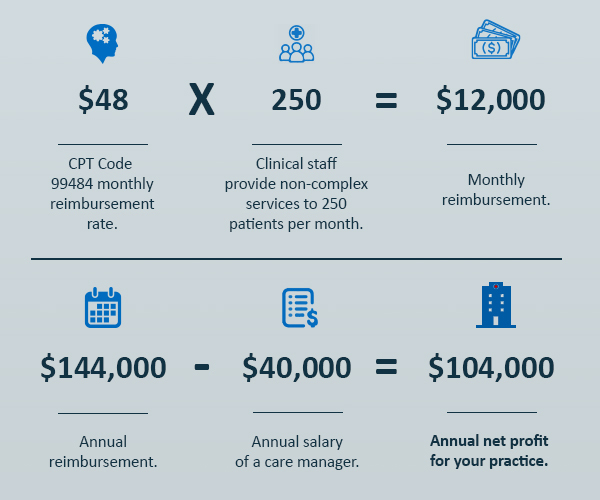 What if you also enrolled 100 of those patients in CCM?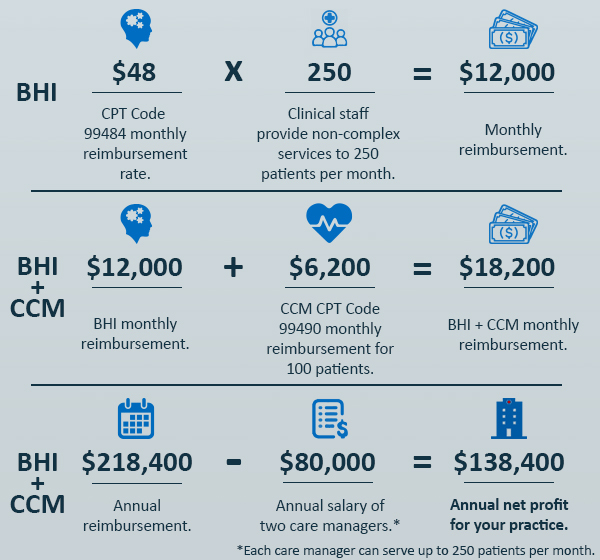 Offering a BHI program can generate revenue, as well as broaden care access for your patient. The combination is inherently valuable.
Streamline Behavioral Health Integration With Software
To deliver and document behavioral health services, you'll want a system in place to manage your program.
A practical resource, such as care coordination software, will keep key details from being lost or overlooked. This will promote efficiency for you and your staff and help patients succeed. Care coordination software can streamline the creation of patient care plans, support staff workflows, and simplify billing. With a clinician's eye, we've designed an intuitive platform that untangles the entire BHI process, so you and your patients can capitalize on it.