CPT codes | Behavioral Health Integration
2023 Behavioral Health Integration CPT Codes: 99484, G0323, G0511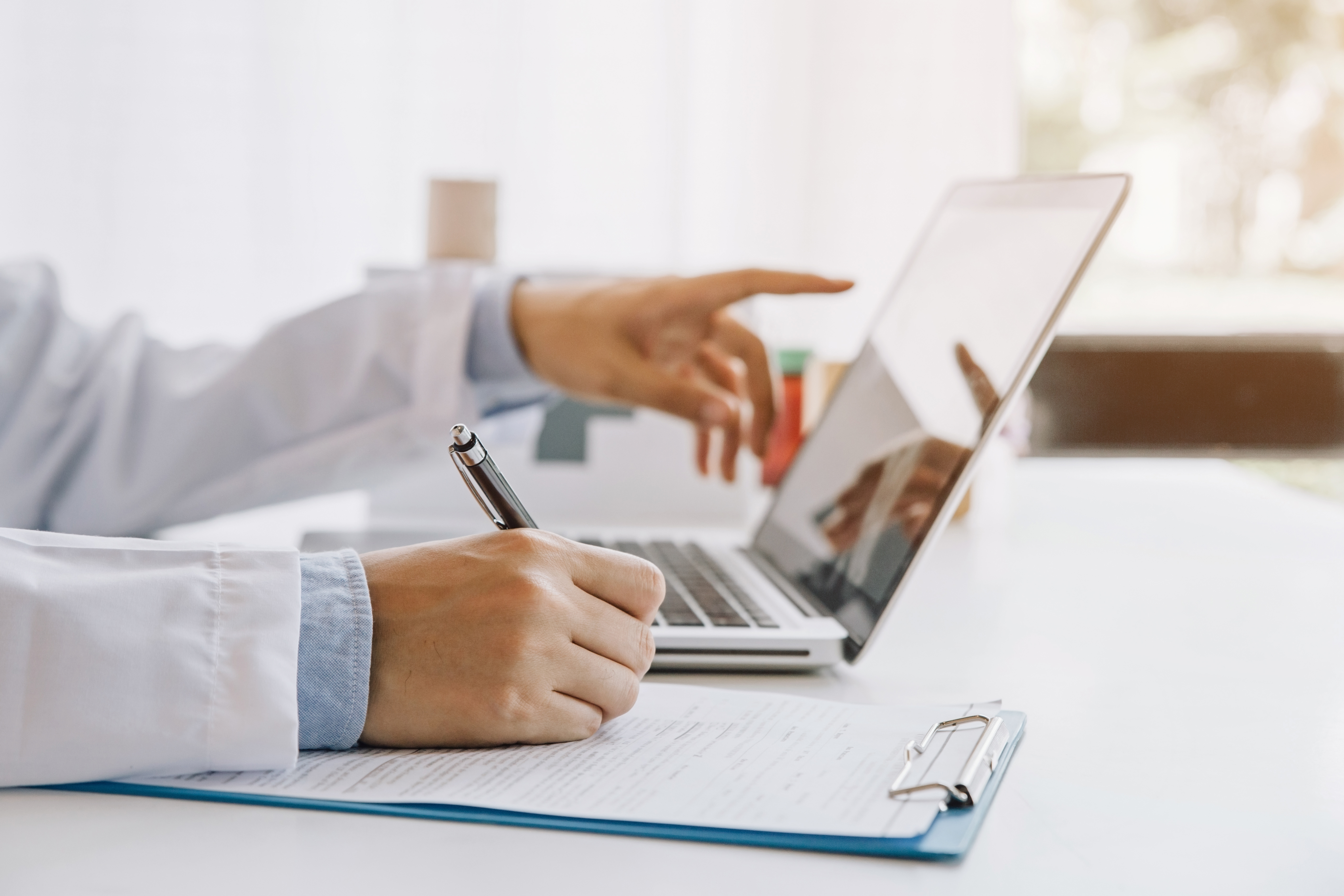 Subscribe
Understanding the CPT billing codes for Behavioral Health Integration (BHI) will provide you with a better idea of what is expected, both by the patient and by Medicare.
Understanding billing codes can also help you project revenues and optimize your staff's capacity.
At ThoroughCare, we've worked with clinics and physician practices nationwide to help them streamline and capture Medicare reimbursements. Our software solution assists with the rules and regulations for BHI while also tracking all activities related to providing the program and easing the difficulties of billing.
With this article, you will better understand BHI billing expectations and standards. You will also see how care coordination software can simplify the program.
What is Behavioral Health Integration?
Behavioral Health Integration (BHI) is designed to integrate mental health services with primary care. Like Chronic Care Management (CCM), BHI is a care management program.
More than 20% of adults aged 60 and older are estimated to suffer from a mental health disorder. As the number of Americans is projected to increase, nearly doubling, from 52 million in 2018 to 95 million in 2060, the 65 and older portion of the total population will rise from 16% to 23%. Elderly adults are more likely to seek treatment for mental health conditions from their primary care physicians (PCPs) due to the relationship built upon treatment of their pre-existing conditions.
Medicare instituted BHI to ease the care access burden, meet patients at their comfort level, and reach a population generally attributed to be "shy" or reticent about seeking needed mental health services.
Billing code 99484 is for BHI care management services for behavioral health conditions with at least 20 minutes of allocated provider time per patient per calendar month.
BHI is a monthly service based upon several core elements. These include:
A systematic assessment

Continuous patient monitoring

Care plan creation and revision

Facilitation and coordination of behavioral health treatment

A continuous relationship with a designated care team member
BHI is primarily managed by the patient's physician or care manager. However, a third-party psychiatric consultant or therapist may provide additional services.
Eligible BHI conditions include any mental, behavioral health, or psychiatric condition being treated by the billing practitioner, including substance use disorders that are deemed in the clinical judgment of the billing practitioner to warrant BHI services. The diagnosis or diagnoses could be either pre-existing or made by the billing practitioner and may be refined over time.
Your patient must present at least one behavioral health condition to be eligible for the program. Medicare Part B will cover up to 80% of the program's cost. Other insurances, such as Medicaid or private companies, may also cover this.
General Behavioral Health Integration Addition
Medicare expanded BHI this year, first implemented in 2018, with the General Behavioral Health Integration (GBHI). This allows for additional providers to treat more patients that perhaps could not have been seen by physicians due to time constraints. Clinical psychologists (CPs) and clinical social workers (CSWs) can now bill for reimbursement (CPT code G0323) with certain requirements.
Billing code G0323 is for care management services for behavioral health conditions with at least 20 minutes of allocated CP or CSW time per patient per calendar month.
Required GBHI service elements include:
Initial assessment or follow-up monitoring (including the administration of applicable validated rating scales)

Systematic assessment and monitoring utilizing applicable and validated clinical rating scales

Behavioral health care planning by primary care team with the patient (including revision for patients who are not progressing or whose status changes)

Facilitation and coordination of behavioral health treatment

Continuity of care with a designated care team member
GBHI does not involve a psychiatric consultant, nor a designated behavioral health care manager. However, a designated behavioral health care manager may employ this service.
This GBHI expansion equates to a far greater reach of patients and additional billing opportunities for your practice.
How to Bill for Behavioral Health Integration and General Behavioral Health Integration
Five items are required when submitting a claim through Centers for Medicare & Medicaid (CMS) services:
CPT Codes for each program you are managing for the patient

ICD-10 codes tied to each of the conditions you are managing within that program

Date of service

Place of service

National Provider Identifier (NPI) number
CMS has determined provider criteria to bill for BHI reimbursement. The provider must:
Use a certified EHR technology

Spend 20 minutes of non-face-to-face time per patient per month

Document time spent per patient (including time tracking and monthly summary/reporting)

Initial assessment or follow-up monitoring (including the use of applicable validated rating models)
Care planning in relation to behavioral/psychiatric health problems (including revision for patients who are not progressing, patients with status changes, and integration of care plan data with the practice EHR)
Facilitate and coordinate treatment such as psychotherapy, pharmacotherapy, counseling and/or psychiatric consult

Enable continuity of care with designated care team member
Four steps to bill:
Verify CMS requirements were met for each patient each month

Submit monthly claims to CMS

Send an invoice to patients receiving BHI services monthly

Make sure no conflicting codes have been billed
CPT Codes for Behavioral Health Integration and General Behavioral Health Integration
The three types of billing codes under BHI, including one for GBHI, are detailed below.

If you are a rural health clinic (RHC) or federally qualified health clinic (FQHC), use the following code to bill for BHI.

Billing Behavioral Health Integration with Chronic Care Management
Medicare allows your patients to enroll in both its chronic care and behavioral health programs. BHI combined with CCM can be a relevant and powerful combination for patients.
With an underlying, undiagnosed mental health condition, treating chronic conditions may be less successful. Chronic conditions combined with mental health challenges can present seemingly insurmountable odds in a patient's eyes.
CMS has met that need and attempted to nullify those odds for your patients. You can utilize and bill for both BHI and CCM concurrently within the same month. When billing for both, though, you must record 20 minutes of independent service for each program (40 minutes total). You cannot provide these services to a patient at the same exact time.
You will need clear consent from the patient for each program enrollment. Medicare will require this information, especially if your practice is audited.
If you're using care coordination software, the process is simplified and patient consent will be automatically documented.
How Behavioral Health Integration Produces Revenue
There are absolutely revenue opportunities for your practice within BHI. For example: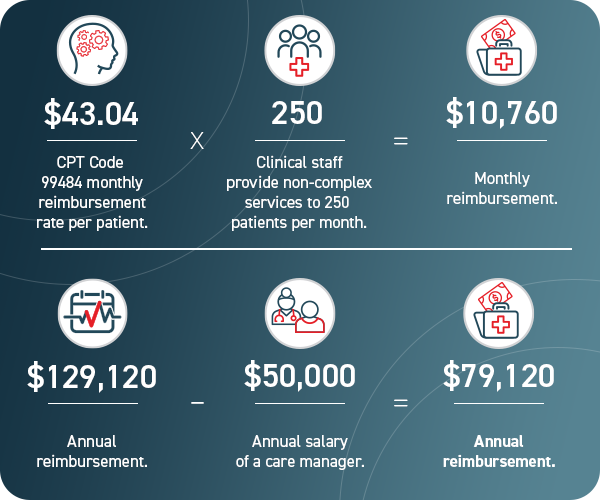 Imagine if 100 of those patients were also enrolled in CCM.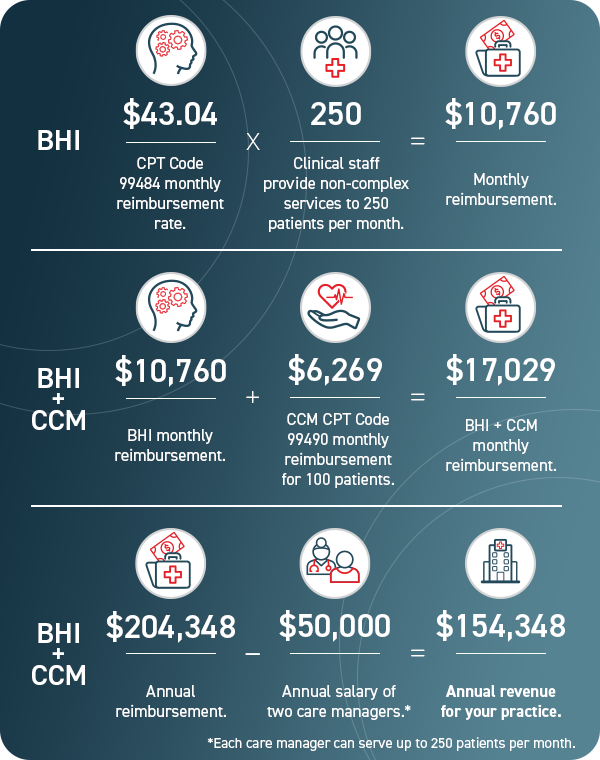 As BHI can serve as a patient's first introduction to mental health care or as ongoing care, combining that with treatment for chronic conditions simply allows more revenue for your practice as well as a holistic patient approach for both physical and mental health.
Streamline Behavioral Health Integration with Care Coordination Software
Knowing the CPT codes for BHI can help your practice project revenue and optimize your care team's capacity. But to deliver and document BHI services utilizing best practices, a system needs to be in place to manage your program.
A practical resource, such as care coordination software, secures key details from being lost or overlooked. This promotes efficiency for you and your staff, which subsequently helps patients to succeed. Care coordination software can streamline the creation of patient care plans, close care gaps, support staff workflows with guided assessments, and simplify billing.
ThoroughCare's software solution offers these exact features.
With a clinician's eye, we've designed an intuitive platform that untangles the BHI process, so both you and your patients can benefit. It also enables you to offer an entire suite of wellness services. With the right tools, BHI does not have to be an overly confusing or time-consuming effort for your practice.
Reimbursement rates are based on a national average and may vary depending on your location. Check the Physician Fee Schedule for the latest information.