Remote Patient Monitoring (RPM) | CPT codes
2023 Remote Patient Monitoring CPT Codes: 99453, 99454, 99457, 99458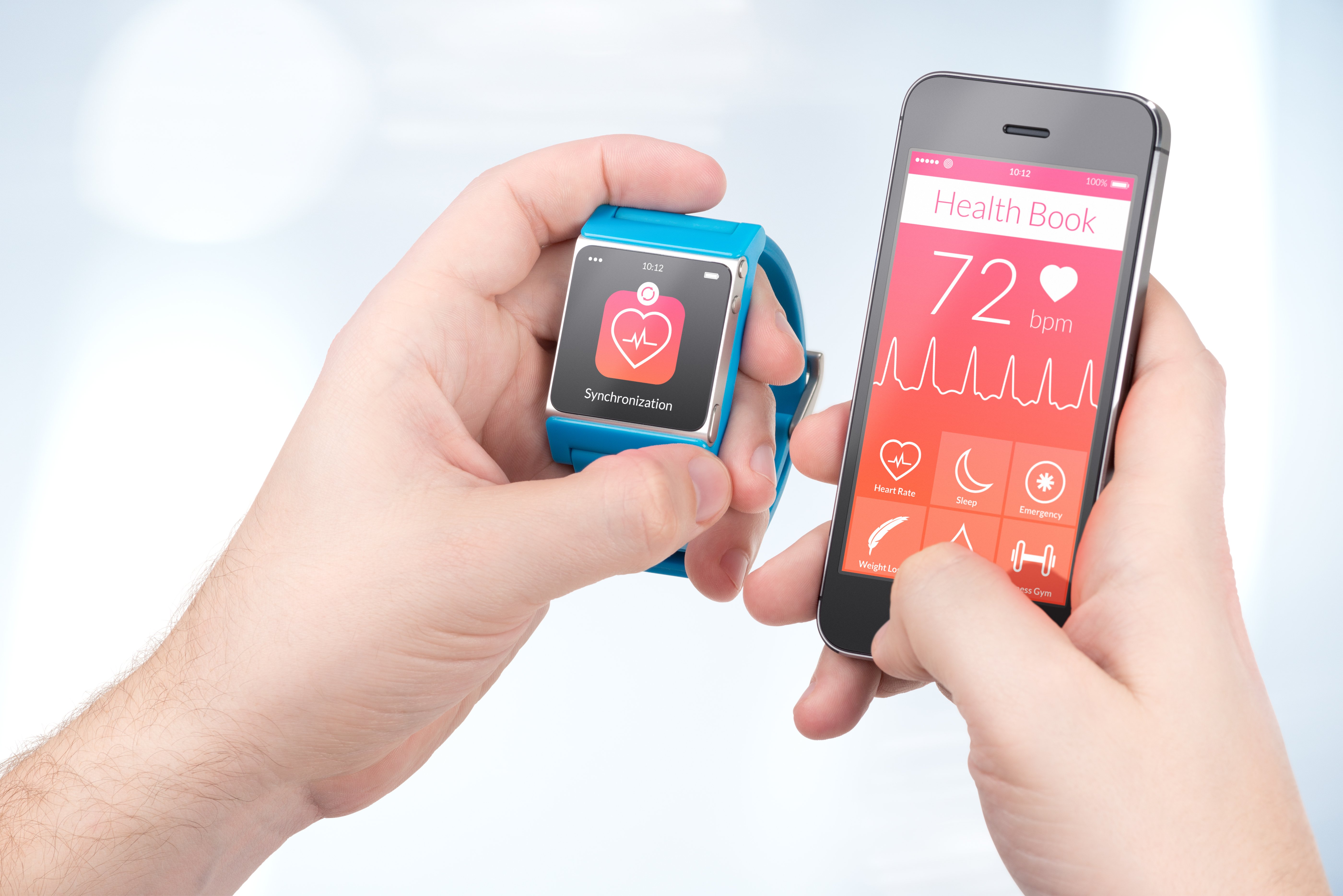 Subscribe
Understanding the CPT billing codes for Remote Patient Monitoring (RPM) will provide you with a better idea of what is expected, both by the patient and by Medicare.
Understanding billing codes can also help you project revenues and optimize your staff's capacity.
At ThoroughCare, we've worked with clinics and physician practices nationwide to help them streamline and capture Medicare reimbursements. Our software solution assists with the rules and regulations for RPM while also tracking all activities related to providing the program and easing the difficulties of billing.
What is Remote Patient Monitoring?
Medicare designed RPM as a general telehealth option for its insured population. Through various digital devices, doctors and healthcare groups can collect and analyze patient vitals on an ongoing basis, between regular office appointments.
Any patient covered by Medicare Part B can enroll in remote monitoring services and it will pay 80% of this benefit. Many secondary insurances will make up the difference.
RPM is a monthly billable program, considered from the first day through the last day of a month, and tracks patients' health issues through the transmission of clinical data via a digital device. Devices must meet the Food and Drug Administration's (FDAs) criteria for a designated medical device.
RPM Digital Devices Can Include:
Weight scales

Blood pressure monitors

Pulse oximeters

Glucometers

Heart rate monitors

Thermometers

Spirometers
As services for RPM are delivered through remote interactions, the appropriate device is provided to the patient. The device then collects daily readings which are transmitted digitally to the provider.
RPM Digital Readings Can Include:
Weight

Blood pressure

Blood glucose

Heart rate
On a monthly basis, patients must receive at least 20 minutes of service and/or record 16 days of remote device readings for Medicare to offer reimbursement. That said, billable time and device readings are reimbursed via two separate CPT codes, which are detailed in the graphic below.
RPM data should be collected through a resource compliant with the Health Insurance Portability and Accountability Act (HIPAA), such as care coordination software.
How to Bill for Remote Patient Monitoring
Five items are required when submitting a claim through the Centers for Medicare & Medicaid Services (CMS):
CPT codes for each program you are managing for the patient

ICD-10 codes tied to each of the conditions you are managing within that program

Date of service

Place of service

National Provider Identifier (NPI) number
It is not necessary to know the care manager assigned to the patient, but it is helpful in case of an audit. When billing, calculate the time spent with each of your patients monthly.
CMS has determined provider criteria to bill for RPM reimbursement. The provider must:
Use a certified electronic health record (EHR) technology

Spend at least 20 minutes per month with the patient and/or record 16 days of remote device readings

Document time and device readings

Compile monthly reports and summary of RPM data

Have 24/7 access to care management services

Track readings from connected devices

Have RPM data available 24/7 for the entire staff

Share RPM data with the EHR and other providers
Once those criteria are met by the provider, four steps are required to bill for RPM:
Verify CMS requirements were met for each patient each month

Submit claims to CMS monthly

Send an invoice to patients receiving RPM services monthly

Ensure there are no conflicting codes that have been billed
CPT Codes for Remote Patient Monitoring
CPT codes for remote monitoring correspond to an exact activity, whether that be device setup or providing care services. The codes reflect different rates, each with its own restrictions.

Providers, on average, receive $48.80 for 20 minutes of service per patient per month (CPT code 99457). Additional opportunities to meet higher billing thresholds are also available. For example, an additional $50.15 per month is billable when patients utilize their RPM device daily (CPT code 99454).
CPT code 99453 may be utilized once per device upon providing it to a patient. For example, if a patient is given two devices within a calendar month, only one of those devices can be billed for that month. The second device would be billed in the next subsequent month.
CPT code 99454 may be utilized once per month per patient, no matter the number of devices employed by that patient. It should be billed in 30-day increments only if the patient takes at least 16 daily device readings that same month. Care coordination software can assist in tracking this requirement to help your practice remain current and correct in billing reimbursements.
It is important to note that 99454 can be billed every 30 days while 99457/99458 are calendar month codes. This can get tricky during a month like February which has fewer than 30 days. To make this code easier to manage, we suggest billing for it every calendar month so the codes are aligned. Just be cautious about adding enough separation during February and the following months.
Remote Patient Monitoring for Rural Health Clinics
Medicare does not include rural health clinics (RHCs) in the RPM program. However, it is still possible for RHCs to offer RPM services.
RHCs cannot use the above RPM codes, but they can employ a more general CPT code that is often associated with Chronic Care Management (CCM). The CPT code for RHCs to utilize is G0511. This code was designed by CMS for broadly defined "general care management."
G0511 reimburses approximately $77.94 per patient per month for 20 minutes of service and can only be used once per patient per month. In other words, G0511 cannot be used for both CCM and RPM in a calendar month; G0511 can only be used for one program per patient per month.
Nathan Baugh, Executive Director of the National Association of Rural Health Clinics, responded to these RPM limitations:
"We urge CMS to either redefine a RHC visit to include RPM services (as was done with mental health services provided via telehealth) or to create a separate G-code to allow RHC to bill for RPM and RTM services as was done with G0071 (Virtual Care Communication) and G0511 (General Care Management)."
Broadening the scope of the RTM program for RHCs could logically produce greater revenue for those practices. Instead of having to choose between monthly billing for RPM and CCM with G0511, RHCs could simply bill for both utilized programs.
How Remote Patient Monitoring Produces Revenu

e
Revenue opportunities are available for your practice within RPM.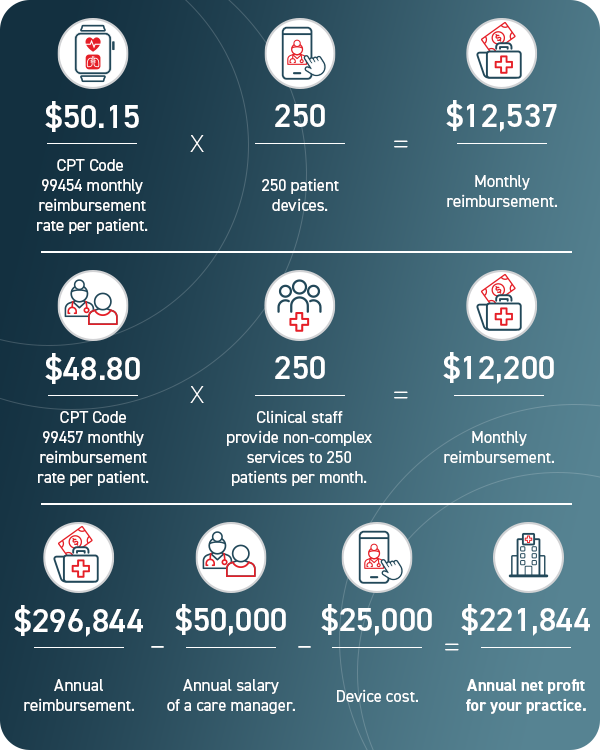 The final figure does not include billable time beyond the 20-minute minimum, but additional time would increase revenue for your practice.
CPT code 99458 is utilized for additional increments of 20 minutes after the initial 20-minute minimum has been met. It is an add-on code to 99457 and can be billed in unlimited 20-minute increments each month with reimbursement averaging $39.65 each time billed.
As long as the patient is provided with an RPM device, CPT code 99453 can be utilized once per device per patient to help offset device reimbursement.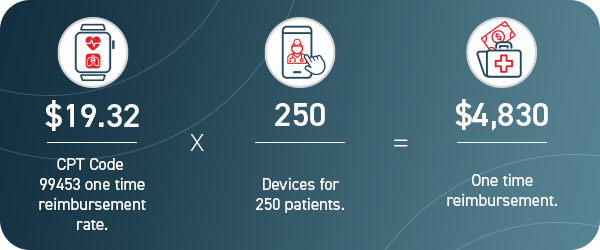 In addition to creating practice revenue, RPM programs broaden patient care access and can prevent emergency situations through daily monitoring.
Streamline Remote Patient Monitoring with Care Coordination Software
Knowing the CPT codes for RPM can help your practice project revenue and optimize your care team's capacity. But to deliver and document RPM services utilizing best practices, a system needs to be in place to manage your program.
A practical resource, such as care coordination software, secures key details from being lost or overlooked. This promotes efficiency for you and your staff, which subsequently helps patients to succeed. Care coordination software can streamline the creation of patient care plans, support staff workflows, and simplify billing.
ThoroughCare's software solution offers these exact features.
With a clinician's eye, we've designed an intuitive platform that untangles the RPM process, so both you and your patients can benefit. Our care coordination software enables you to offer a whole suite of wellness services that pair well with RPM, such as Chronic Care Management (CCM) and Transitional Care Management (TCM).
Reimbursement rates are based on a national average and may vary depending on your location. Check the Physician Fee Schedule for the latest information.