Chronic Care Management | CPT codes
2023 Chronic Care Management CPT Codes: 99490, 99439, 99487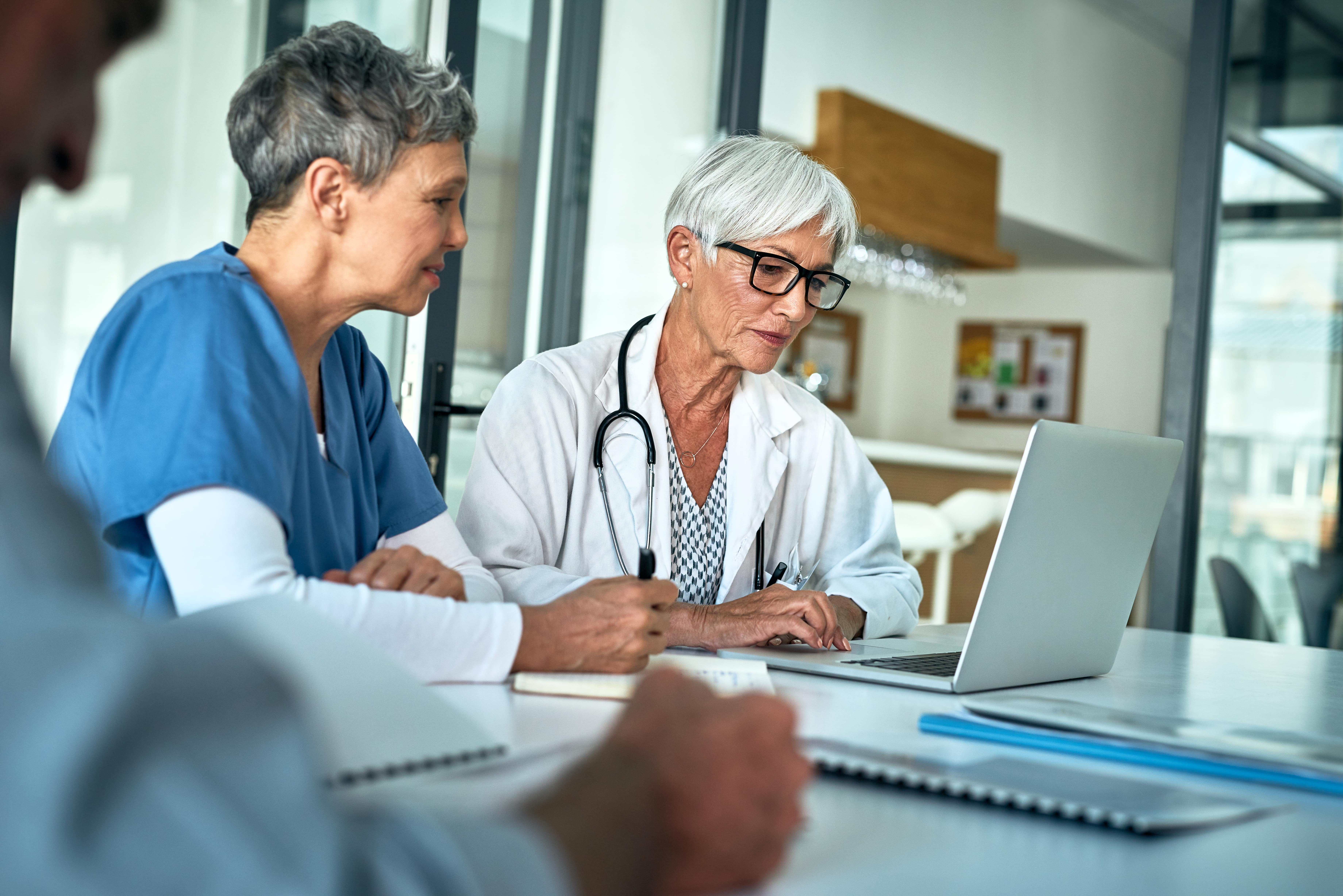 Subscribe
As a medical care provider, understanding billing codes can help your practice project revenues and optimize your staff's capacity.
Utilizing the CPT codes for Medicare's wellness program, Chronic Care Management (CCM), can provide an optimal vantage point of both patient and Medicare expectations. Additionally, CPT codes provide an understanding of CCM billing expectations and standards.
A review of 2023 CCM requirements and CPT codes fosters a more comprehensive awareness of CCM billing opportunities, criteria, timeframes, and standards. You will also see how care coordination software can simplify the program for your practice.
At ThoroughCare, we've worked with clinics and physician practices nationwide to help them streamline and capture Medicare reimbursements. Our software solution assists with CCM rules and regulations while also tracking all activities related to providing the program and easing the difficulties of billing.
What is Chronic Care Management?
Medicare designed CCM so doctors and healthcare groups can provide ongoing treatment to patients between regular appointments delivered through remote interactions. Determined as a monthly program, at least 20 minutes of patient service must be provided each month for Medicare to offer CCM reimbursement.
A patient's CCM eligibility necessitates having two or more chronic conditions expected to last a minimum of 12 months. Additionally, the patient's doctor must note any chronic issues 12 months prior to CCM enrollment. These chronic conditions must pose a significant risk of death, acute decompensation, or functional decline.
CCM services can include:
A monthly clinical review

Telephone calls

Physician reviews

Referrals

Prescription refills

Chart reviews

Scheduling appointments or services
Individual care plans are created for and in collaboration with the patient upon CCM enrollment and determine services rendered. These care plans act as a comprehensive guide to the patient's goals, health history, and behavior.
Medicare Part B covers 80% of this benefit for patients.
On average, providers receive $62.69 for 20 minutes of service per month. Additional opportunities to meet higher billing thresholds are also available, as detailed below.
How to Bill for Chronic Care Management
Five items are required to submit a claim through the Centers for Medicare & Medicaid Services (CMS):
CPT codes for each program you are managing for the patient

ICD-10 codes tied to each of the conditions you are managing within that program

Date of service

Place of service (most often in-office or telehealth)

National Provider Identifier (NPI) number
Although not a requirement, it is helpful to know the care manager assigned to the case in the event of an audit.
To bill, calculate the time spent with each patient per month.
Four steps to bill for services:
Verify CMS requirements were met for each patient each month

Submit claims to CMS monthly

Send an invoice to patients receiving monthly CCM services

Determine there are no conflicting codes that have been billed
CPT Codes for Chronic Care Management
Chronic care CPT codes will vary based on the type of service provider and complexity of care. Each code reflects a different value and the amount of time dedicated to care management.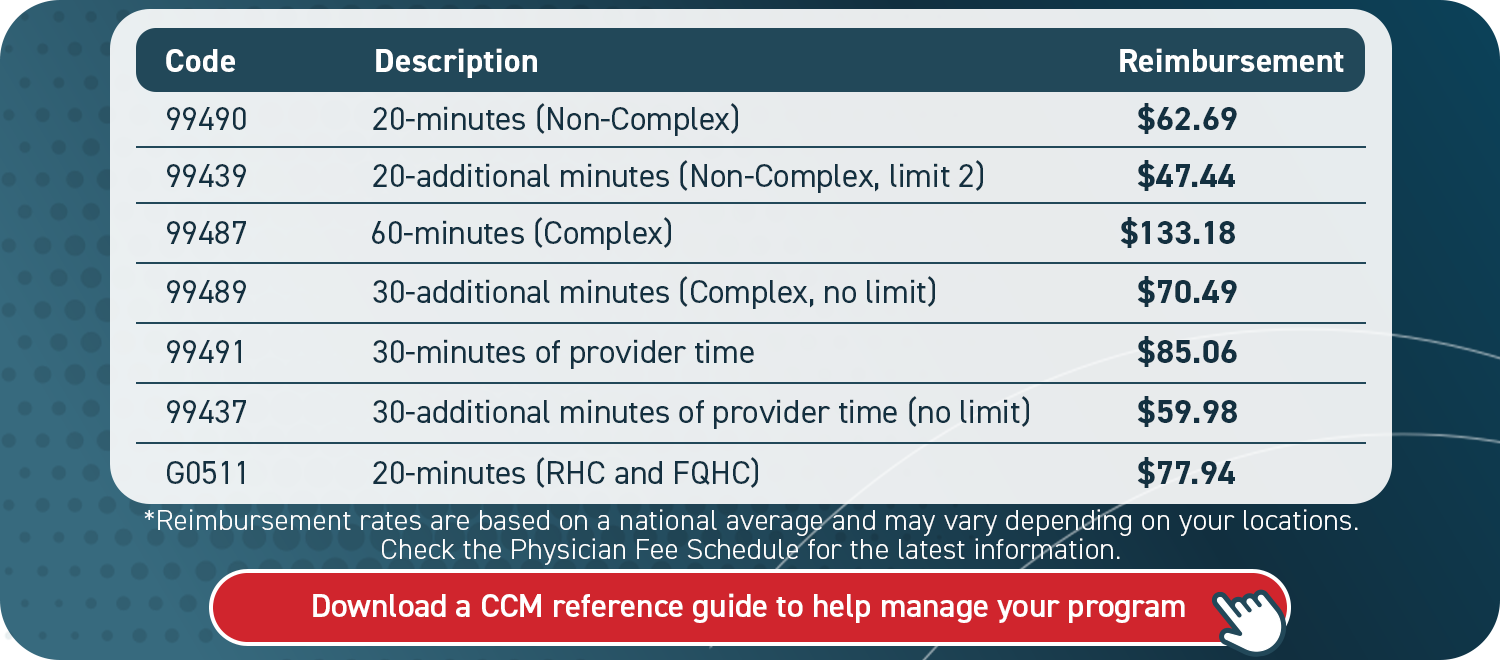 CPT Codes for Non-complex Chronic Care Management
The following rates are based on national averages for the reimbursement of non-complex chronic care by clinical staff and may vary based on locality as determined by the CMS Physician Fee Schedule.
CPT code 99490 for 20 minutes of billable time at an average reimbursement of $62.69
CPT codes 99490 + 99439 for 40 minutes of billable time at an average reimbursement of $107.16
CPT codes 99490 + 99439 (x2) for 60 minutes of billable time at an average reimbursement of $154.60
Rural health clinics (RHCs) and federally qualified health clinics (FQHCs) utilize the following CPT code for "general care management" to bill for CCM.
CPT code G0511 for 20 minutes of billable time at an average reimbursement of $77.94
Two ICD-10s must be presented when billing for chronic care services as the requirement for CCM includes two or more present conditions.
CPT Codes for Physician-Driven, Non-complex Chronic Care Management
The following codes are designed for non-complex chronic care in which the provider or non-physician practitioner (NPP) is heavily involved. They cannot be billed concurrently with standard CCM CPT codes.
The value of physicians' time is reflected in these non-complex, physician-driven codes as CCM services are not reliant on clinical staff:
CPT code 99491 for 30 minutes of billable time at an average reimbursement of $85.06

CPT codes 99491 + 99437 for 60 minutes of billable time at an average reimbursement of $145.04
CPT Codes for Complex Chronic Care
The following billing codes apply for complex care:
CPT code 99487 for 60 minutes of billable time at an average reimbursement of $133.18

CPT codes 99487 + 99489 for 90 minutes of billable time at an average reimbursement of $203.67
It is important to note the distinction here between CPT code 99487, which accounts for 60 minutes of complex chronic care, versus the two CPT codes (99491 and 99437) that account for 60 minutes of physician-driven, non-complex chronic care.
In the case of a Medicare audit, you will want to show the correct code was applied based on the compatible situation.
How Does Chronic Care Management Produce Revenue?
CCM is distinctly valuable as it can generate revenue, recover costs, and broaden care access for your patients.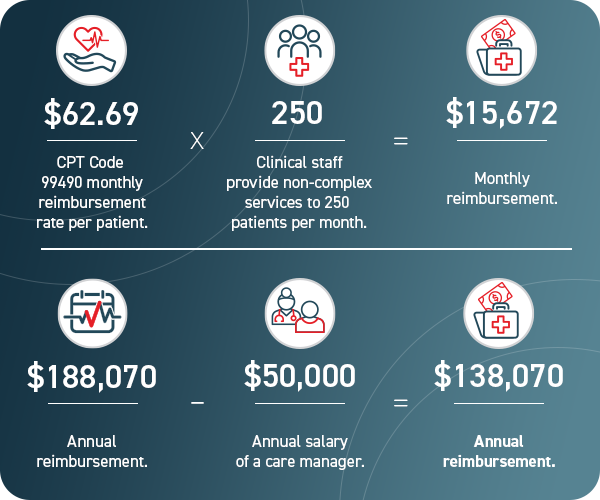 The final figure in the graphic does not account for complex or physician-driven CCM services, nor does it include additional billable time beyond the 20-minute minimum. Both could produce a higher figure.
Streamline CCM with Care Coordination Software
To deliver and accurately document CCM services, you will want a system in place to best manage your program.
A practical resource, such as care coordination software, secures key details from being lost or overlooked. This promotes efficiency for you and your staff, which subsequently helps patients succeed.
Care coordination software can streamline the creation of patient care plans, support staff workflows, and simplify billing. ThoroughCare's software solution offers these exact features.
With a clinician's eye, we have designed an intuitive platform that untangles the entire CCM process, so you and your patients can capitalize on it. Our care coordination software solution enables you to offer an entire suite of wellness services that pair well with CCM, such as Behavioral Health Integration (BHI) or Remote Patient Monitoring (RPM).
Reimbursement rates are based on a national average and may vary depending on your location. Check the Physician Fee Schedule for the latest information.