Transitional Care Management | CPT codes
2023 Transitional Care Management CPT Codes: 99495, 99496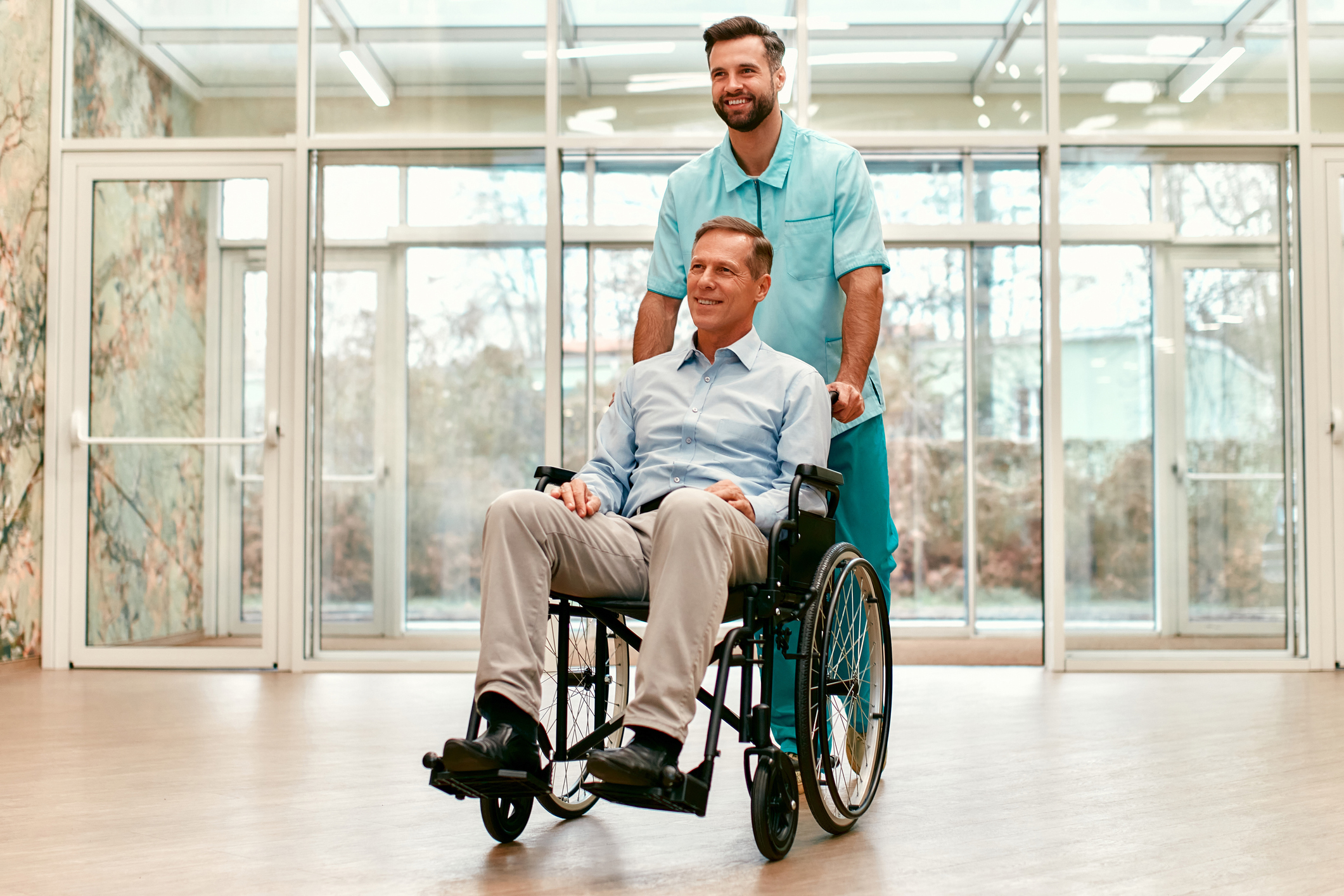 Subscribe
Understanding the CPT billing codes for Transitional Care Management (TCM) will provide you with a better idea of what is expected, both by the patient and by Medicare.
Understanding billing codes can also help you project revenues and optimize your staff's capacity.
At ThoroughCare, we've worked with clinics and physician practices nationwide to help them streamline and capture Medicare reimbursements. Our software solution assists with the rules and regulations for TCM while also tracking all activities related to providing the program and easing the difficulties of billing.
With this article, you will better understand TCM billing expectations and standards. You will also see how care coordination software can simplify the program.
What is Transitional Care Management?
Annually, over $52.4 billion is spent in the United States to care for patients readmitted to a hospital within 30 days of discharge for a previously treated condition. TCM can aid in this financial and medical burden through active engagement with recently discharged patients to potentially avoid readmissions.
TCM is designed to assist patients with the transition from a hospital setting to a community-based setting over a 30-day timeframe from the date of discharge. The purpose is to reduce the number of unnecessary patient readmissions and prepare for a successful patient transition back into their place of residence in the community.
Hospital settings can include:
Inpatient acute care hospital

A skilled nursing facility (SNF)

A community mental health center (CMHC)

Inpatient psychiatric hospital

Long-term care hospital

Nursing home

Inpatient rehabilitation center

Hospital outpatient observation

Partial hospitalizations
Services are provided by primary care physicians (PCPs) and specialists, as well as non-qualifying medical practitioners such as Physician Assistants (PAs), Nurse Practitioners (NPs), Certified Nurse Assistants (CNAs), and Certified Nurse Specialists (CNSs).
While non-face-to-face services can be provided by any of the above-listed healthcare professionals, face-to-face service must be provided by a provider.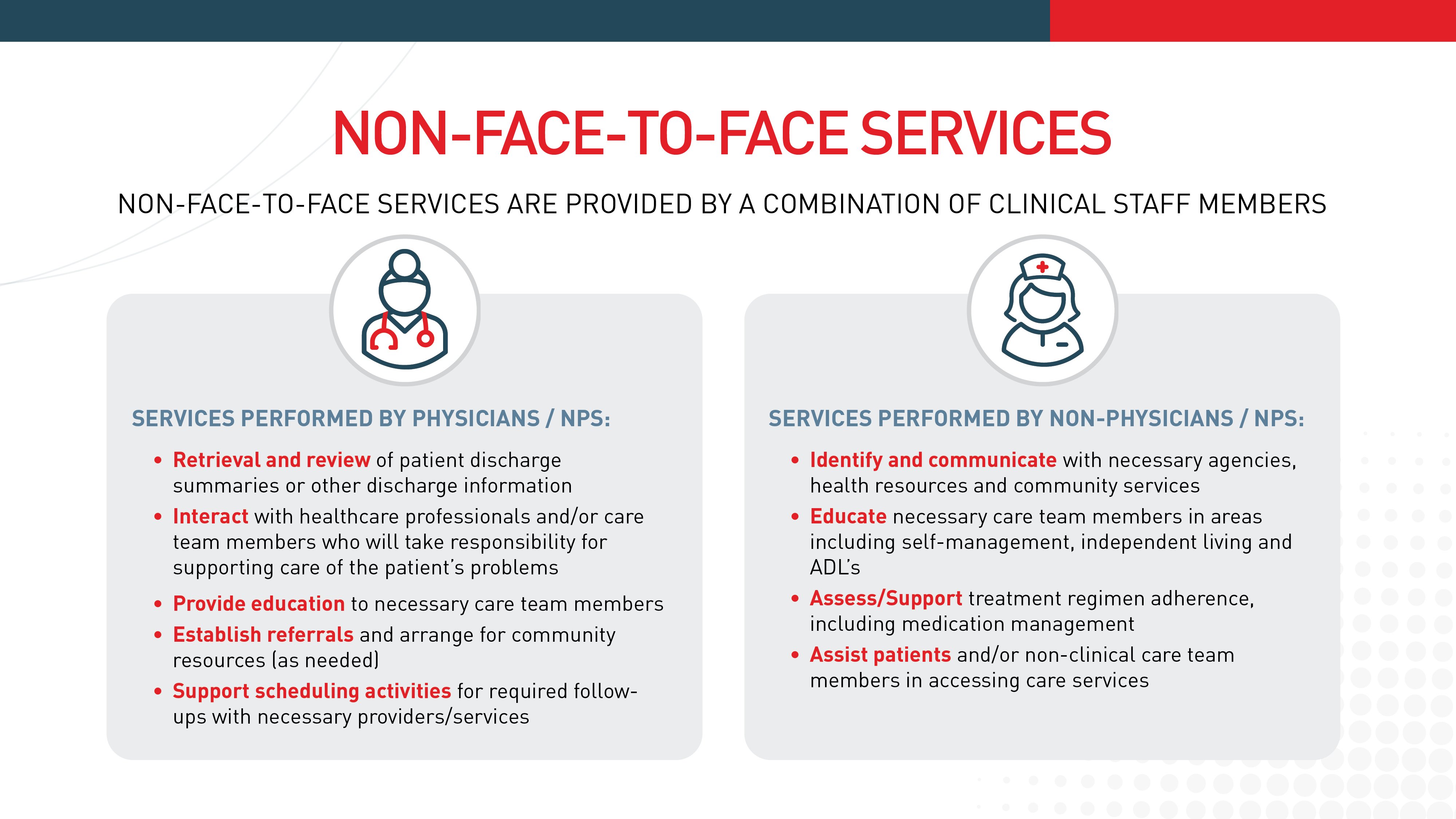 TCM services consist of three segments:
Interactive contact

Provision of non-face-to-face services

Office visit
All three segments are mandatory within TCM-specific timeframes unless determined otherwise.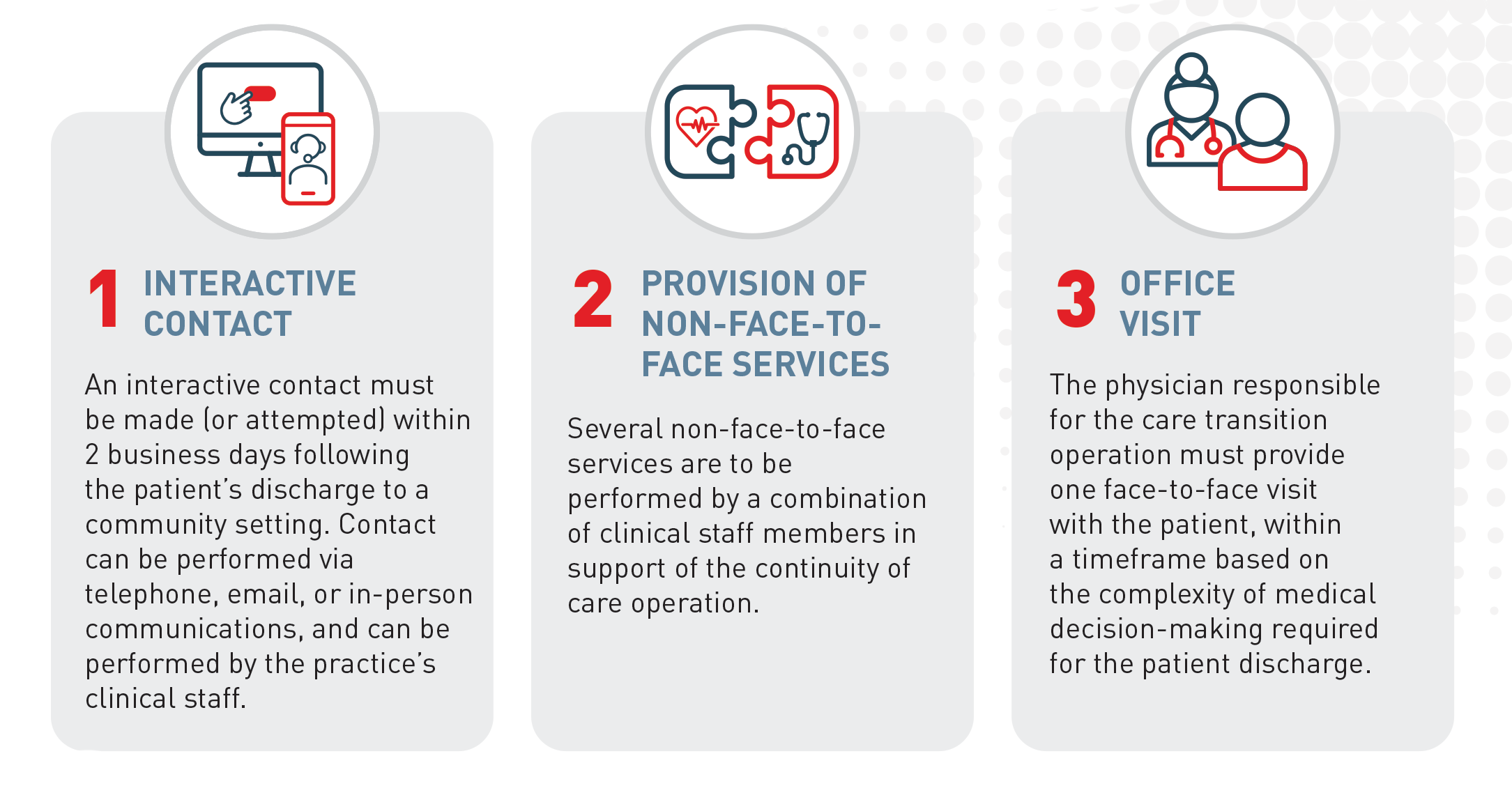 How to Bill for Transitional Care Management
Billing happens after all three TCM service segments are provided and a 30-day timeframe has passed from the date of discharge as long as the patient was not readmitted.
There are two CPT codes for TCM reimbursement: 99495 and 99496. Only one code can be billed per patient per program completion. The most appropriate code is based on the complexity presented within the medical decision-making for the patient.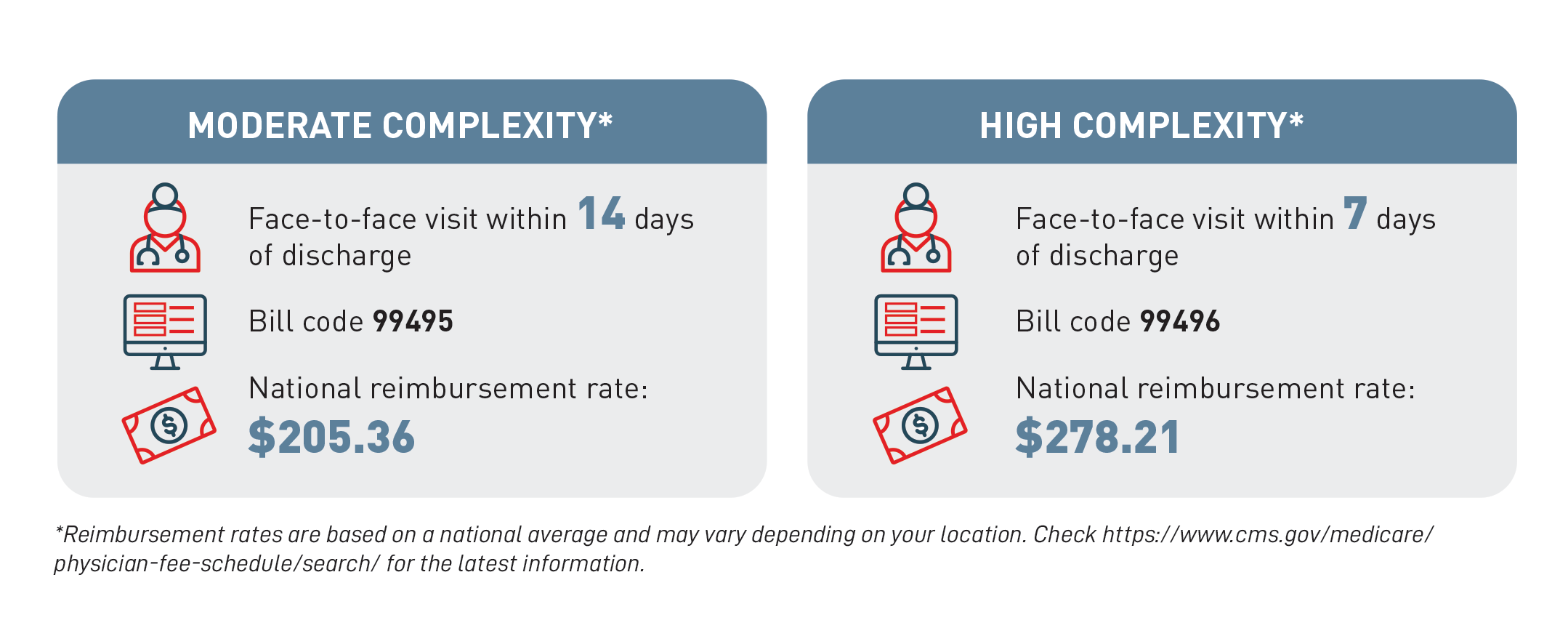 Medical decision-making refers to the difficulty of establishing a diagnosis and/or selecting a care management option. Its complexity is determined by the following factors:
Number of possible diagnoses and/or amount of care management options to be considered

Breadth and/or complexity of medical records, diagnostic tests, and/or other information that needs to be acquired and analyzed

Risks of significant complications, morbidity, and/or mortality, as well as comorbidities associated with the patient's presenting problem(s), the diagnostic procedure(s), and/or the possible management option(s)



Both CPT codes, 99495 and 99496, account for medical decision-making. The differential is within the complexity, moderate or high, of medical decision-making required.
CPT code 99495: TCM services with moderate medical decision complexity and includes a face-to-face office visit within fourteen (14) days of discharge. National average reimbursement: $205.36.
CPT Code 99496: TCM services with high medical decision complexity and includes a face-to-face office visit within seven (7) days of discharge.

National average reimbursement: $278.21

.
It is important to note that office visits are considered part of TCM services and do not get billed individually or separately.
How Transitional Care Management Produces Revenu

e
Your practice can generate revenue with TCM. Although the figures shown below do not account for staff wages, your practice is likely already providing some TCM services upon a patient's hospital discharge.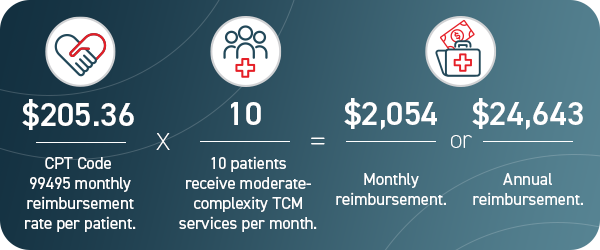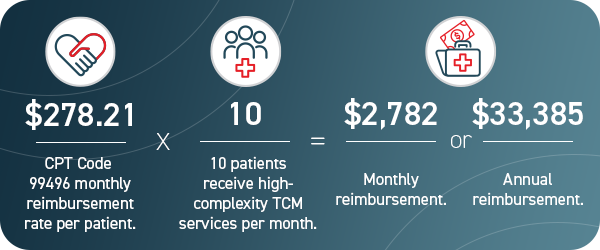 Offering these services as a TCM program can recover costs and standardize certain processes, rendering them more effective for the patient and profitable for your practice.
Software for Transitional Care Management
Knowing the CPT codes for TCM can help your practice project revenue and optimize your care team's capacity. But to deliver and document TCM services utilizing best practices, a system needs to be in place to manage your program.
A practical resource, such as care coordination software, secures key details from being lost or overlooked. This promotes efficiency for you and your staff, which subsequently helps patients to succeed. Care coordination software can streamline staff workflows, close care gaps, enable effective documentation, and support patient engagement.
ThoroughCare's software solution offers these exact features.
With a clinician's eye, we've designed an intuitive platform that untangles the TCM process, so both you and your patients can benefit. It also enables you to offer an entire suite of wellness services. With the right tools, TCM does not have to be an overly confusing or time-consuming effort for your practice.
Reimbursement rates are based on a national average and may vary depending on your location. Check the Physician Fee Schedule for the latest information.