What to Expect: Starting ThoroughCare (Contracts, Timeline, Training)

Subscribe
You've done your homework.
You've researched Medicare's preventive health programs. You've found one or two that are right for your practice. You have a strategy for their implementation.
Now, it's about the technology needed.
You've read about care coordination software. You've compared a few companies that provide it. You know you'll utilize this tool in your practice.
You like ThoroughCare. And you're close to making a decision. You see our intuitive solution as the best way to manage Medicare's programming, and our pricing is suitable for your needs.
Nice! We'd be happy to have you. You'd be in good company.
More than 600 clinics and physician practices already trust us. We've designed our software for use by clinical staff, saving time and promoting efficiency.
So, if you choose ThoroughCare, what should you expect in terms of implementation and support?
You may have concerns about set-up, or wonder what our timeline is. Maybe you've had a bad experience with software in the past? Don't worry!
In this article, we'll review what ThoroughCare requires to complete a contract, as well as our standard implementation timeline and process.
We'll also review our training and support resources.
With this information, you'll be equipped to make your purchase decision and know for certain whether ThoroughCare is right for you.
What Does ThoroughCare Require to Complete Your Contract?
If you proceed with ThoroughCare as your software solution, an account manager will act as your liaison.
They can send a contract the same day as your buying decision.
To prepare the contract, all we require are a few pieces of simple information. These are:
Legal Company Name:

Company Address:

Contract Signer Name:

Contract Signer Email:

The EHR Used By Practice:

24/7 Care Phone Number:

Medicare Programs to be Managed:

Type of Practice (FFS, RHC, Distributor, etc.):
An account manager will supply the contract via PandaDoc, an e-document platform. Simply e-sign it and return it.
How Long Does It Take to Set Up My ThoroughCare Site?
Implementation is fast and easy. It is also totally adjustable to your schedule.
Our software is entirely cloud-based, so there's no need for our team to install any hardware on-site at your practice. It is an "out-of-the-box" product, implemented remotely.
We can do so within 24 hours if need be. Or, if you prefer a slower pace, we can provide a timeframe that works for you.
You determine the speed.
What is the Process to Set Up My ThoroughCare Site?
There are three simple steps.
1. Provide Patient Data
All we require is a CSV file of patient data. This is the best format for us to import from.
We will provide our own file template. This assures all the necessary information is captured from your practice's EHR.

Please note: You only need to provide patient data for the individuals who will participate in the Medicare programs ThoroughCare will assist with.
Once you have collected your patient data, share it through a secure DropBox link.
ThoroughCare will provide this resource at the appropriate time.
This delivery method ensures your data remains confidential and compliant with the Health Insurance Portability and Accountability Act (HIPAA).
Typically, we can import your data overnight. A clean, well-formatted CSV file will promote a fast turnaround.
In the event you'd prefer to manually add patient data to your ThoroughCare site, you can.
2. Create Administrative and Staff User Accounts
Next, ThoroughCare will create accounts for your practice administrators.
Usually, these roles reflect a select few individuals, such as a manager or project lead, who will oversee your programs.
Only ThoroughCare can grant practice administrator roles to a user.
From there, only practice administrators can create basic user accounts. It will be their responsibility to do so.
That said, we will provide instruction on how during training and through help articles (covered below).
3. Attend Kick-off Call
We will invite you to a brief launch call once your ThoroughCare site is ready.
This is recommended for larger clients, such as those that manage multiple groups. A kickoff call is usually reserved for administrative users and management.
The call serves as a friendly introduction to the software. We'll walk you through your site implementation, administrative functionality, and customization options.
Is Training Available for ThoroughCare?
As part of our service, we offer personalized training to every client.
Training takes place via a Zoom video call. All members of your team are welcome to join.
In case a team member cannot attend, or there's a need for additional reference, we will provide a recording of the training.
Each Medicare program module (i.e. Chronic Care Management (CCM), Remote Patient Monitoring (RPM), etc.) includes its own training.
So, depending on what programs you intend to use ThoroughCare for, you may receive multiple training opportunities.
We tend to schedule these on separate dates, so we do not overwhelm your team with information.
Typically, our sessions last between 60 and 90 minutes. We provide ample time for questions, as well.
For additional information, we've prepared an article on what to expect during training.
What Support or Resources Does ThoroughCare Offer?
Aside from personalized training, we support your questions and troubleshooting inquiries.
We do so through Intercom, an application on our website, shown below.
It is accessible by clicking the small, blue circle icon in the bottom right corner of any ThoroughCare-associated screen.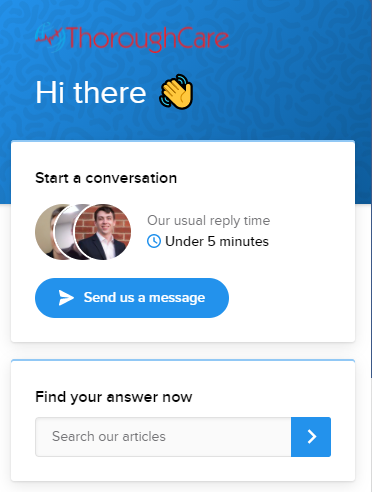 You can directly message a member of our team with your question, and we'll quickly respond.
This support is offered Monday through Friday, from 9 a.m. to 6 p.m. EST. In the event of an immediate need for assistance during weekend hours, we can accommodate.
As well, we maintain many helpful articles for client use.
These are basic tutorials. They cover subjects such as: getting started, software tools, and billing, among others.
Members of our support team produced them. They are easy to read, and they are maintained with the latest information.
Overall, you should rest assured that we are open and accommodating to our clients. If you ever have a question or request, do not hesitate to contact us.
We want your experience with ThoroughCare to be of value to your practice.