Remote Patient Monitoring (RPM)
Patients and Physicians Recognize Remote Patient Monitoring Benefits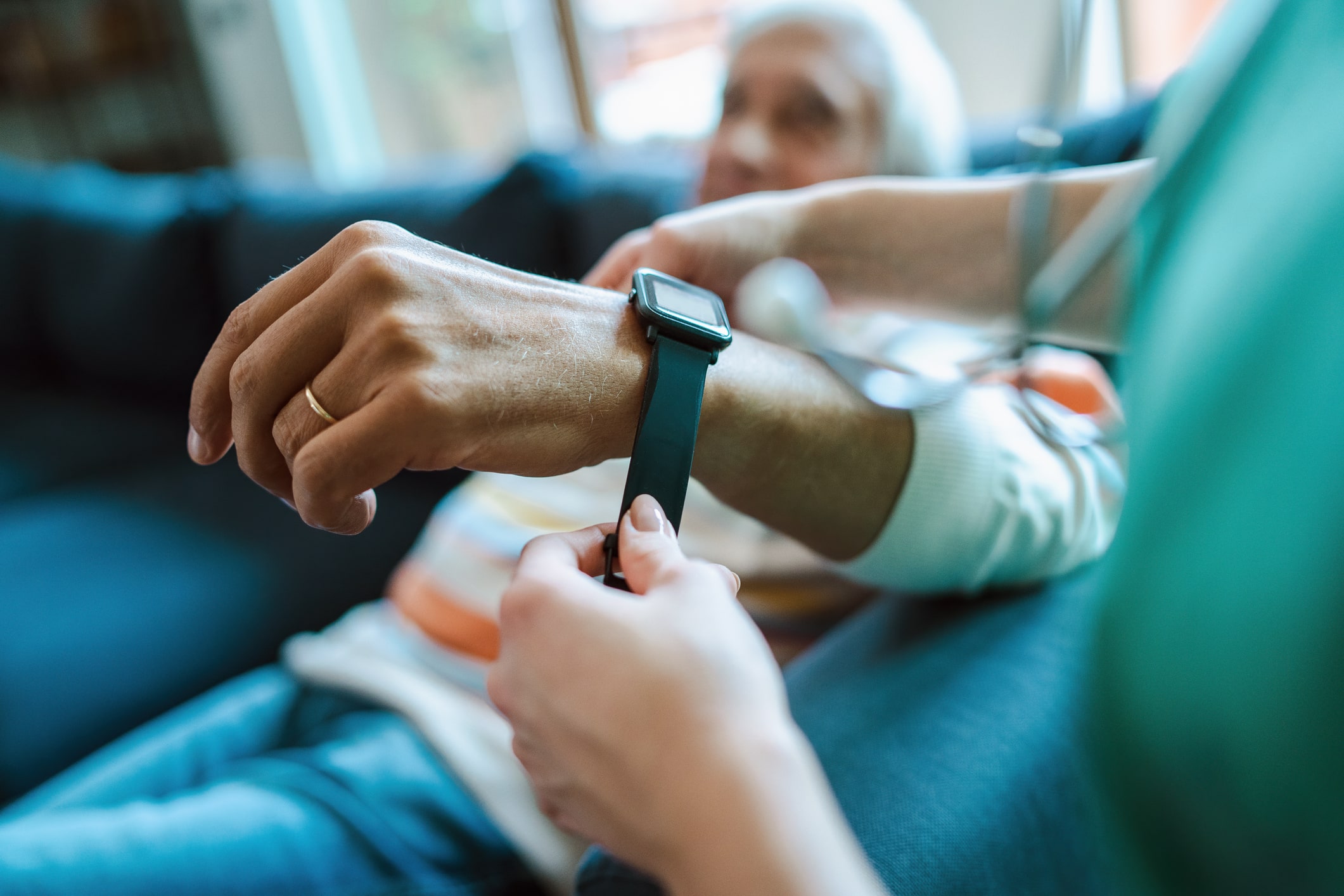 Subscribe
During the pandemic, remote patient monitoring (RPM) produced mounting evidence that it provides a cost-effective method to monitor and support care for many chronic illnesses. Physicians are beginning to realize the many benefits that enable them to follow the patient's status and make necessary changes that deliver better condition management. In a landscape of value-based and accountable outcomes, RPM can help prevent exacerbations and costly inpatient admissions.
For patients, the benefits of RPM include improved ongoing care and monitoring, the sense of peace that comes with oversight, and the convenience and cost savings from avoiding unnecessary care, as well as the time and cost of travel.
Studies reveal how patients and physicians view the value and promise of RPM. These validations are pivotal drivers for adoption, further government and payer reimbursement, and value-based care inclusion.
The current state of RPM: What's driving adoption?
RPM collects and transmits physiological data. Coupling those data with guideline-directed medical therapies, monitoring, alerts, and intelligence enable a host of healthcare opportunities.
Nearly 60% of Americans are living with at least one chronic illness, which stands to overwhelm existing healthcare systems without more effective and efficient tools to supplement and complement existing standards of care. RPM devices like blood pressure cuffs, weight scales, and other technology are ramping up because managing chronic, complex, and escalating conditions is challenging when based on in-office visits and periodic contact with patients. For physicians, 36.8% to 50% of outpatient visits were related to chronic conditions. These patients also require more frequent appointments, averaging 6.8 visits per year compared to 4.2 for patients without chronic diseases.
RPM can support providers in managing these conditions more efficiently and effectively, leading to more consistent care and better outcomes while enhancing in-office access for other patients
RPM is ramping up as evidence and reimbursement builds
RPM adoption has grown slowly but steadily, notably since The Centers for Medicare & Medicaid Services (CMS) launched RPM-related billing codes that enable physicians to combine RPM with chronic care management (CCM) services. It's estimated that by 2024, 30 million U.S. patients will be using RPM technologies at home and on their person.
The use of RPM during the COVID-19 pandemic rapidly increased, providing critical at-home monitoring or hospital-at-home care for patients in lockdown. By 2027, the global RPM systems industry will be valued at over $1.7 billion, amounting to 128% growth.
RPM applications range from those that detect critical health events through sensors to fall detection and medication-adherence monitoring. These tools can include artificial intelligence and machine learning that add diagnostic or predictive clinical decision support and analytics, results interpretation, as well as patient education and engagement.
Select conditions and specialties currently dominate RPM use
Data collected and analyzed by Definitive Healthcare indicate that cardiologists and primary care physicians are the main RPM adopters, with nephrologists, pulmonologists, emergency medicine, and pain management specialists making up a smaller but influential group. Conditions like heart disease, diabetes, and chronic lung disease are not only the deadliest chronic illnesses in the U.S., but the most prevalent monitored via RPM.
A Harvard study from 2022 tracked RPM billing for patients with chronic illness diagnoses: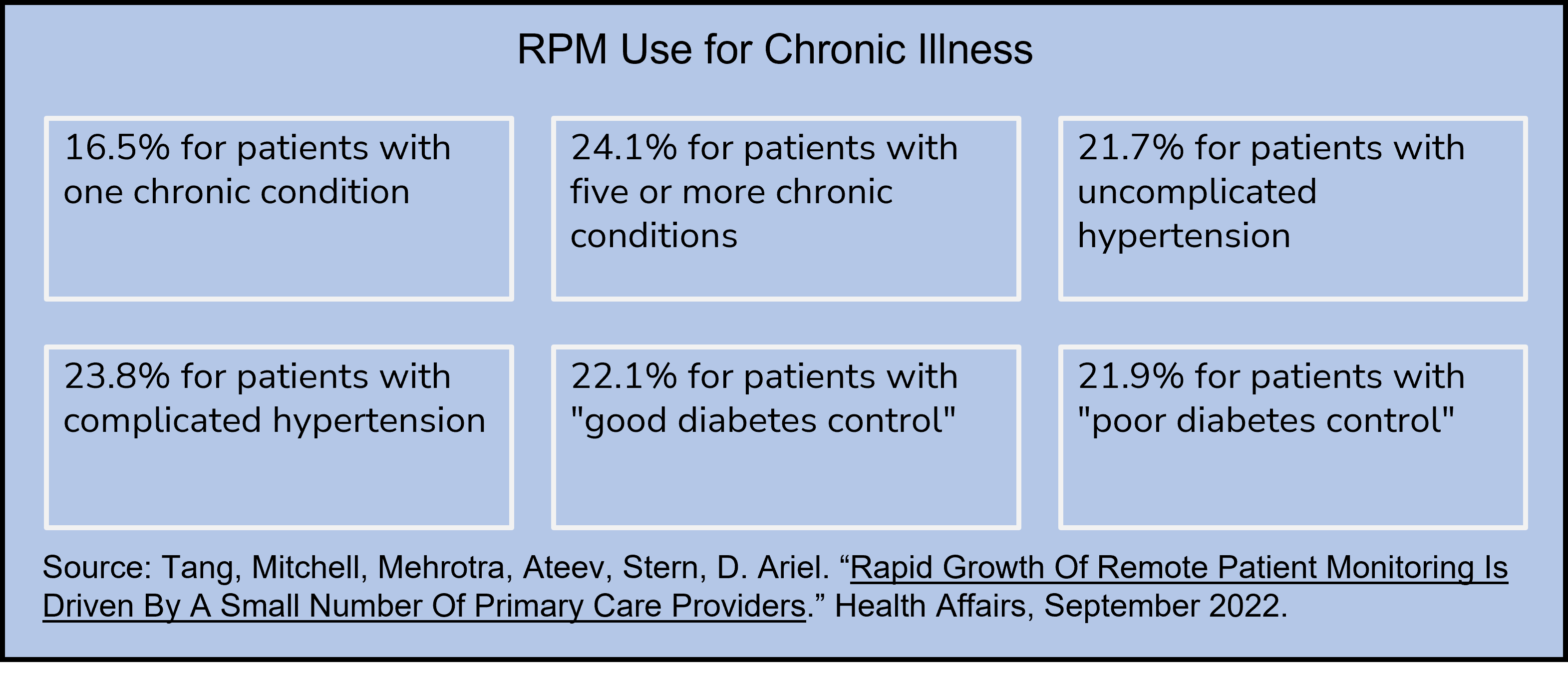 Ten RPM-related CPT codes saw the most significant use, skyrocketing 1,294% from January 2019 through November 2022. Total claims for RPM were over 27% higher than in 2021.
Evidence of RPM effectiveness and positive impact
RPM technology leverages opportunities for proactive and preventative care management between office visits, demonstrating improved outcomes over episodic, reactive disease treatment approaches.
A

2022 survey

of 100 U.S. medical practice leaders found that 66% of participants realized improved patient outcomes from remote monitoring. And while RPM effectiveness studies have differed by patient population, the results are encouraging.
A

survey of physician office leaders

suggests that 40% leverage RPM today, with almost 70% reporting improvements in patient engagement, satisfaction, and increased revenue. Of those respondents, 66% said that RPM identifies gaps in care.
A

primary care study

achieved measurable improvements in health, including 71% of participants losing an average of 4% of body weight and 95% lowering their blood pressure by an average of 13 points.
Other case studies demonstrate RPM's efficacy across a number of conditions and care scenarios:
Hospital-at-home interventions with a minimum of one home visit from a nurse or physician could substitute in-hospital care, particularly for chronic diseases patients
A study of patients living with diabetes saw A1C levels drop by two percent at three months and 2.2% at six months
An adult oncology hospital-at-home program found that during the first 30 days of enrollment, patients in the program were 58% less likely to be admitted for an unplanned hospital stay. Those requiring admission had a shorter length of stay.
RPM helped reduce rehospitalizations among knee and hip replacement patients fourfold. While the RPM program didn't significantly affect mortality or rehospitalization rate for non-elective surgery patients, it significantly reduced pain and supported a significant increase in the detection and correction of medication errors.
Additional research reflects the clinical, industry, and consumer views on the value of RPM to achieve the following:
Improve patient outcomes – cited by 49% of respondents
Increase compliance rates – cited by 44% of respondents
Enable patients to take more ownership of their health – cited by 42% of respondents
Make health and fitness more accessible to patients – cited by over 50% of respondents
While studies into the clinical and cost-effectiveness of RPM continue, current patient and physician perspectives and attitudes reflect expanding interest and acceptance.
How do patients view RPM and its benefits?
RPM presents a unique opportunity for patients not seen previously in healthcare. Technology-based monitoring and engagement in the home allow patients to experience stronger linkages to providers, more continuous oversight and care, timely interventions, and the convenience and security of receiving a level of care from home.
In one study, patients shared the top three benefits they found from using RPM:
43% cited personalized health
42% cited faster access to health care services
37% cited more influence on their well-being through ownership of health data
That same study found that 52% of consumers would use a connected health device if a doctor recommended it as part of their treatment.
Patients expect a host of RPM benefits with a few concerns
Eighty percent of patients view RPM favorably, and nearly half of American adults want to incorporate it into their existing medical care. Research conducted in 2021 revealed high patient receptivity, sharing that "patients are fully ready to embrace RPM because they recognize its benefits for safely and effectively monitoring chronic conditions." Patients are receptive to RPM today because of greater convenience, efficiency, more control over personal health, and peace of mind. Patient concerns were shared by about 50% of consumers, including accuracy issues, reliability, and potential complications caused by using monitoring devices.
A study of RPM used for peritoneal dialysis highlights common themes among patients and the benefits they expect to experience alongside areas that require further attention:
Patients anticipate experiencing convenience and efficiency, and greater confidence through increased support
They are unsure how data governance, including data protection and reliability, will be achieved
They desire a closer clinician relationship and better communication but also have concerns that distance could lead to complacency
Many are open to using technology for medical purposes, but there are just as many who have technological literacy issues
These patient perspectives have formed from more significant levels of exposure to RPM services and tools due to the pandemic. In 2020, over 23.4 million U.S. adults had used RPM. Consumer experiences have been overwhelmingly positive, with some studies indicating a 90% or more patient satisfaction rate with RPM. And, as consumers exercise greater influence over healthcare choices, the benefits of this coordinated care will tip the scales in technology's favor. Savvy providers who extend care further outside the office or periodic appointments will benefit.
What is the physician's perspective on RPM?
And where do they think RPM is going?
Physicians are data-driven: They want to see peer-reviewed evidence and hear from their colleagues or their medical association before embarking on a significant shift in care standards or business models. As the evidence regarding RPM value increases, so too is adoption in clinical practices and large healthcare providers which stood around 25% and 20%, respectively, in 2021.
Healthcare leaders see RPM's widespread value: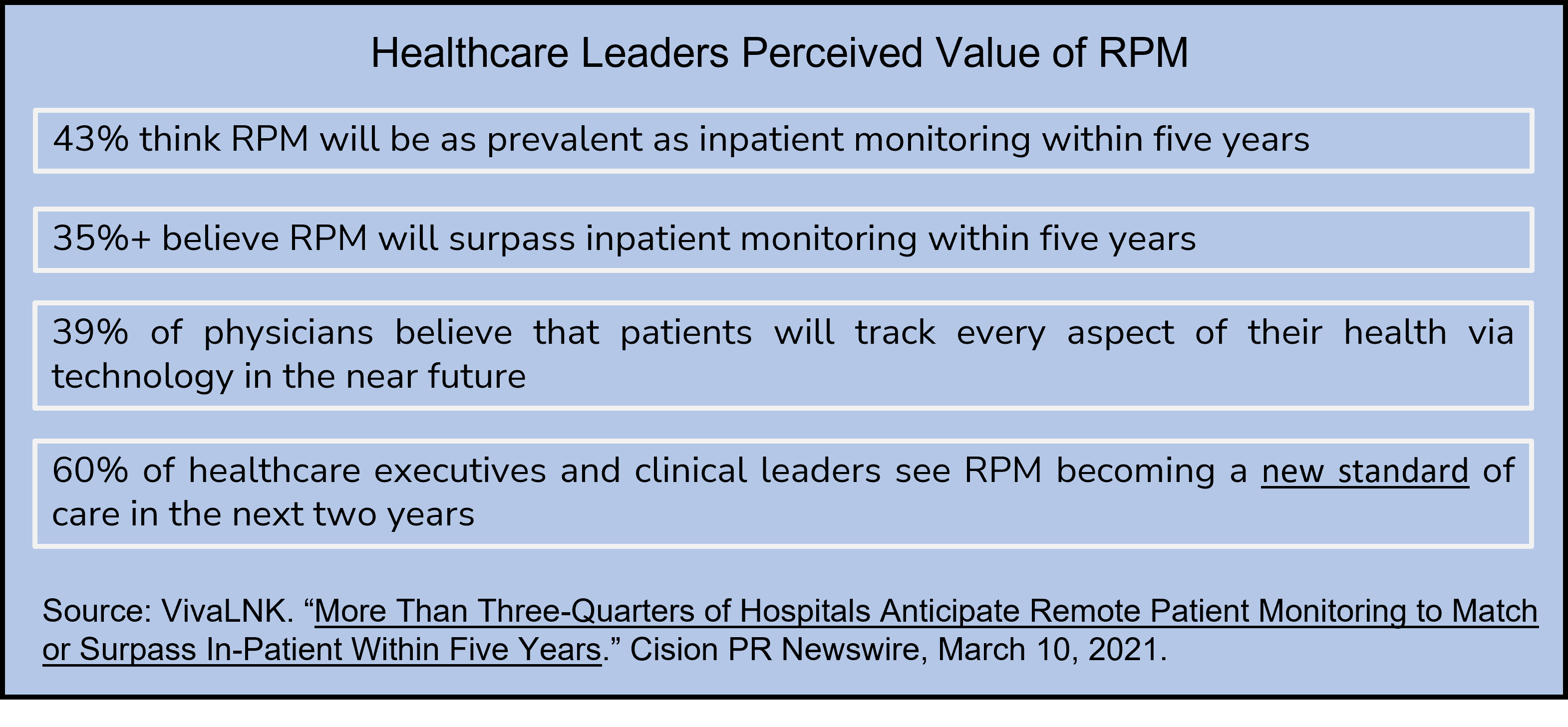 According to the Consumer Technology Association, 68% of physicians firmly intend to use RPM in the future. This enthusiasm is reflected in an op-ed piece by a family medicine physician, highlighting the value to her practice and patients. She was encouraged by how receptive her patients were to RPM, stating:
"For patients with heart failure, type 2 diabetes, or hypertension, a quarterly office visit simply cannot provide the level of care needed to make the continuous and life-changing modifications we know are needed. After working in family practice for 16 years, it's clear to me that continuous monitoring, medication adjustments, and behavioral change can prevent the majority of escalations and help to improve the health of patients over time. Expecting our patients to monitor themselves and adjust their own medications for several months in between office visits is simply not realistic."
Practices like this primary care doctor, along with larger healthcare provider organizations, can reap many benefits from offering RPM services, including:
Increase care access
Reduce patient no-shows
Make treatment decisions on better, more comprehensive data
Proactively manage patients' chronic or complex conditions
Strengthen patient care loyalty, engagement, and treatment plan adherence
Avoid exacerbations and hospital admissions via interventions
Generate significant and consistent revenue streams
Enter into value-based contracts confidently
Improve quality outcomes for performance measurement and ratings
Become a more attractive provider for network negotiations
The American Medical Association's digital health survey shows that physicians are rapidly embracing digital health, with the most considerable growth in RPM, with 53% of physicians reporting greater interest. Physician digital health adoption had increased from 85% to 93% in 2022. These increases were regardless of age, gender, or specialty. Thirty-eight percent of physicians surveyed planned to adopt RPM within a year.
Taking the next steps to see where RPM fits in your patient care
Remote patient monitoring technology connects physicians with patients where they prefer to receive ongoing care and monitoring – at home. RPM not only fits well into a patient's work, home, and lifestyle by adding care with convenience, it gives physicians a data and technology connection that can fill gaps in care while avoiding exacerbations that lead to worsening status. Leveraging RPM can deliver more of what both patients and physicians want—improved outcomes, more efficient care, and stronger clinical relationships.
Physician workflow for remote patient monitoring
The COVID-19 pandemic and the push for value-based care have enabled the growth of RPM as a telehealth innovation. Providers have further embraced this shift by adopting complementary technologies to streamline remote monitoring care.
Digital care coordination can support patient management, simplify data collection, integrate with electronic health records (EHR), and maximize reimbursement models. ThoroughCare takes this one step further by supporting data visualization and analytics to drive actionable insight. Remote vitals can be more easily monitored and interpreted to inform care decisions.
Paired with comprehensive care planning, ThoroughCare's RPM solution can help providers motivate patients to address their chronic illnesses as the healthcare landscape continues to shift.