ThoroughCare Analytics: Insight Driven Care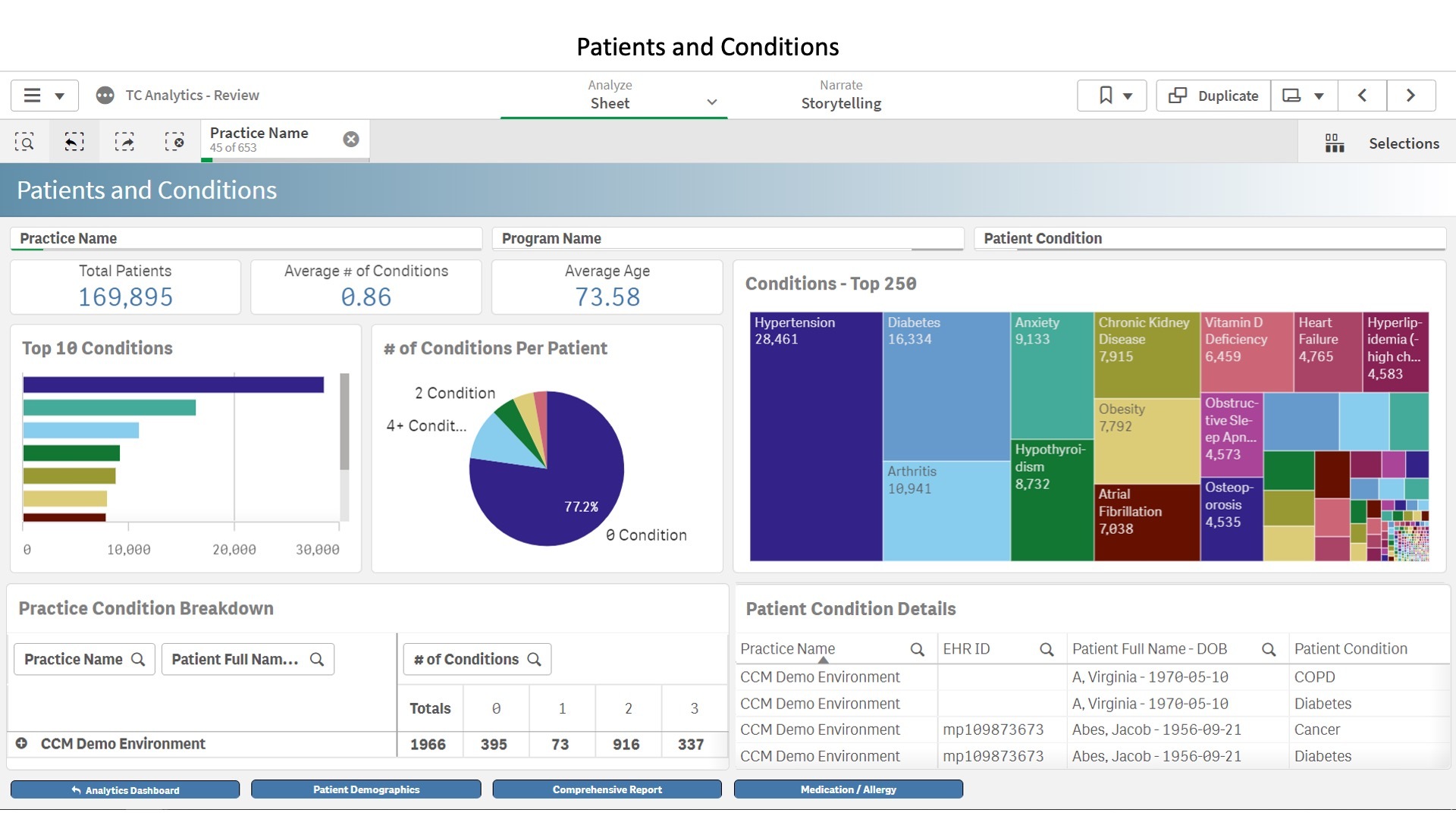 Subscribe
Your practice or organization has collected a lot of data. From your patients, your staff, and your operations. And all of that information holds intelligence, interpretations, or answers to questions you may not even think to ask. Like, what?
Without a way to analyze or visualize data, it's basically useless. It's a source of confusion.
Which is not what you want when trying to make clear decisions! In your role, you're making choices and important decisions all the time. Making better ones means new opportunities for you and your patients.
As a result, we're introducing ThoroughCare Analytics.
It's a new way to visualize and optimize healthcare data to easily make sense of what it contains. It's the logical next step for our holistic care coordination software solution.
Already, we've enabled private practices, hospital groups, and accountable care organizations (ACOs) to effectively manage value-based care programs and enhance patient engagement.
More than 600 clinics and physician practices have entrusted our work to provide for their thousands of patients. Along the way, they've improved value-based performance metrics and innovated their businesses while continually managing their patient's care.
Data presents a possibility as much as it does anxiety. Analytics is like taking a deep breath and assembling your thoughts. It is a means to see what's actually there. Then, take action.
Whether you're observing your patients with Remote Patient Monitoring (RPM), or you're measuring your organization's productivity, data offers knowledge to improve the work you do.
In this article, we'll cover what exactly Analytics is, why we're incorporating it into our platform, some of its key features and uses, and how to access it via our software.
What is ThoroughCare Analytics?
ThoroughCare already collects a variety of patient data, including vitals, medications, and general health history. But our clients have asked for better tools to "slice-and-dice" this information into reports, charts, tables, or visualizations that present clear trends and can aid in making informed decisions.
Analytics does just this.
With it, you can utilize interactive reports and graphical charts to filter and examine the exact data most relevant to you and your patients. You can focus on specific care outcomes, or you can measure your organization's productivity.
Analytics can aggregate data across multiple clinical sites and practices allowing users to see the whole picture of their organization at one time.
It can empower you to see patient health trends take shape in real-time, or you can identify inefficiencies in your organization to streamline processes and close efficiency gaps.
Healthcare analytics is deeply informing the movement toward value-based care.
For instance, data insights can help inform care decisions that can reduce hospital readmissions. Or, data can reduce operating costs by promoting more efficient clinical work.
If you use intelligence from data in these ways, it is possible to improve your organization's value-based performance metrics, which in turn can help you and your patients thrive.
How Can I Use ThoroughCare Analytics?
Analytics can do a lot, to the point of being overwhelming.
But, to offer a quick, high-level introduction to what exactly Analytics is capable of, we'll cover three core benefits in the section below.
1. Proactively Manage Your Patients' Health
As alluded to above, data makes it easier to deliver valuable service to your patients. How?
Real-time, accurate information can go a long way toward capturing a holistic picture of someone's physical condition.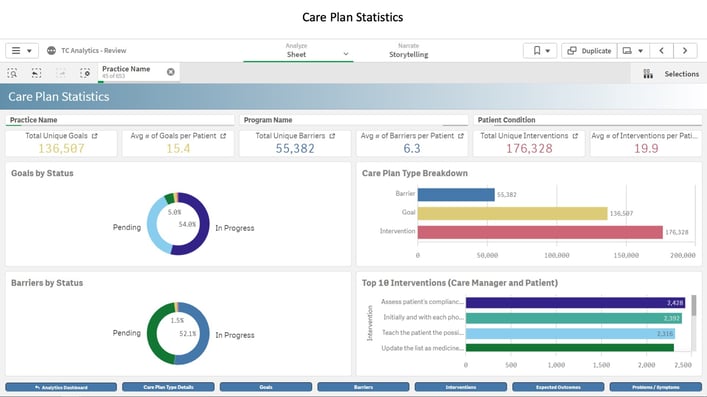 Or, it can help target specific aspects of a person's health, which may affect broader illnesses.
As a medical care provider, access to such information can better equip you to make informed care decisions. As well, it can enable a forward-looking approach to care coordination.
Data present trends and patterns. You can use these to proactively avoid worst-case scenarios, as well as promote healthy lifestyles.
2. Analyze Staff Productivity and Increase Efficiency
Analytics captures information about your organization, as well.
It can highlight workflow inefficiencies and help align priorities between your staff and the patients they care for.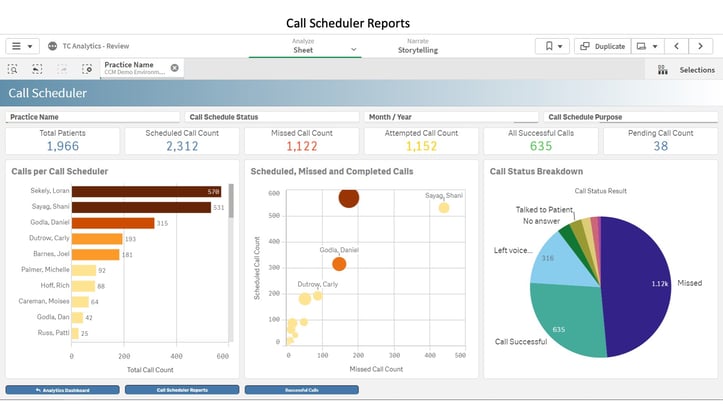 It can do so by measuring user and process performances within the broader ThoroughCare software platform. It can also compare and contrast data between multiple clinical sites and practices within your organization.
You can utilize interactive reports to interpret this data, as it occurs, on a regular basis. And you can analyze trends and monitor changes within your data.
While direct patient engagement is certainly a key-value measurement for Analytics, having the ability to assess your organization's functionality and "health" also serves those you serve in the long run.
3. Maximize Outcome-Based Reimbursements
Analytics can help you more effectively coordinate care or offer value-based care programs.
You can use intelligence found within patient data to improve care outcomes, or you can streamline patient engagement by enhancing your organizational workflows and processes.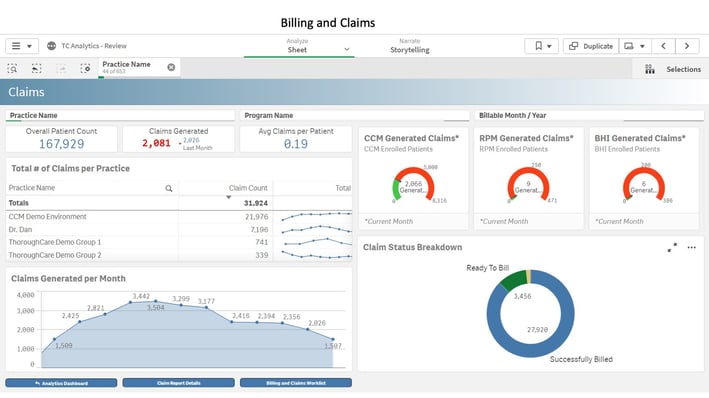 By realizing the first two benefits described above in this article, you can improve value-based performance metrics, which can help you maximize reimbursements.
Analytics can help you more fully transition to a fee-for-value model while minimizing the risk that comes with it.
How Can I Access ThoroughCare Analytics?
Once you've secured an Analytics user license for ThoroughCare, subscribers can access patient and care team data directly within the ThoroughCare software solution.
From there, it's easy to apply filters to segment data, foster insights, and identify opportunities.
Do I Need Prior Experience With Healthcare Analytics?
No, you do not. Analytics is designed to be easy to use.
No prior experience is required. ThoroughCare will provide training opportunities for users.
We've also pre-built a wide range of standard dashboards, reports, and visualizations for use immediately upon subscribing.
Will This Replace ThoroughCare's Existing Reporting Features?
Yes. All existing ThoroughCare reports will be transferred to Analytics on May 1, 2022. All worklists and the patient care plan report, however, will remain on the core ThoroughCare platform.
We're committed to continually improving our users' experiences. And we're excited by the increased application performance Analytics offers.
We want to focus our data and reporting efforts through Analytics to provide you with the best functionality.
Healthcare Analytics for Care Coordination
Analytics can provide knowledge about your patient's health and your organization's effectiveness.
You can use this intelligence to make decisions that streamline care coordination services and value-based care programs. This use of data can help you improve patient outcomes and quality performance metrics that determine value-based reimbursements.
As you continue to transition to a fee-for-value model, Analytics can help simplify your work and ensure the care you provide is of the quality needed.
Want to know more about ThoroughCare Analytics?