Behavioral Health | Behavioral Health Integration
Behavioral Health in Senior Adults: Innovative Provider Strategies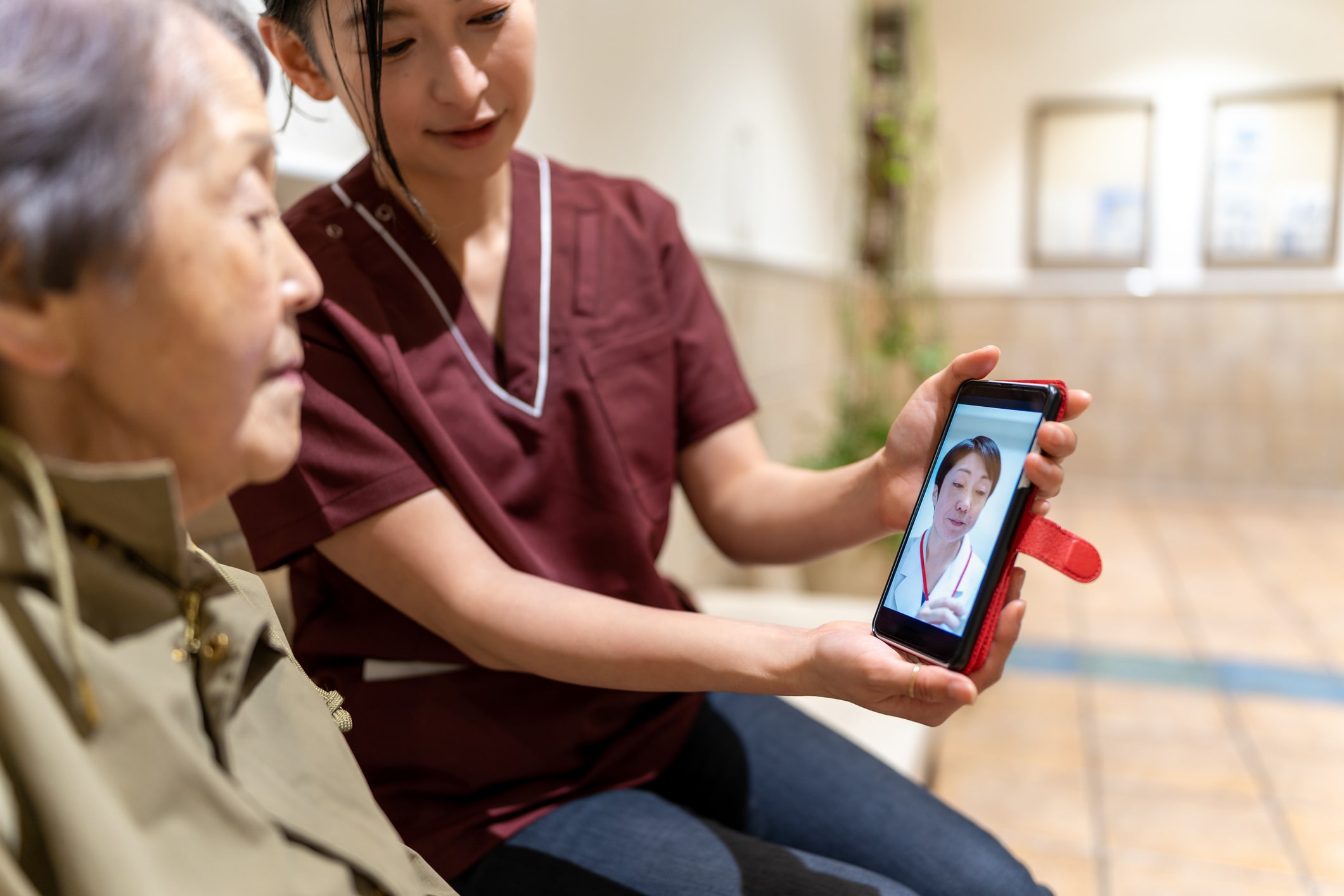 Subscribe
There are several ways that providers, like family medicine and primary care, health systems, and value-based care groups, are leveraging innovative payment arrangements and technologies to provide behavioral health support and treatment.
These approaches and programs hold promise to reduce the parity between physical and behavioral health but also support providers in preventing and addressing the needs of their senior adult patients.
How CMS policy supports providers and older patients
According to the National Coalition on Mental Health and Aging, older adults are experiencing a significant increase in mental health conditions due to the compounding effects of social isolation leading to trauma, anxiety, and depression. Add to that the ongoing substance abuse and suicide crises that touches 10-16% of adults (depending on gender) and 18% of older adults, and workforce shortages. It's clear that behavioral health requires innovative approaches in the face of a growing senior population.
Expanding access to behavioral health services
Medicare hasn't expanded its list of approved mental health providers since 1989. Since then, the number of Medicare beneficiaries has nearly doubled. Recently, the Centers for Medicare & Medicaid Services (CMS) finalized a new rule – titled Increasing Mental Health Options Act of 2022 – that includes clinical psychologists and licensed social workers as evaluated specialties. Starting in 2024, Medicare will reimburse licensed professional counselors, adding more than 140,000 licensed counselors to the roster of accessible clinicians.
In addition to expanding the types of clinicians covered by Medicare, the rule establishes wait-time standards for behavioral and primary care services. It also requires most Medicare Advantage (MA) plans to include behavioral health services in care coordination programs.
Streamlining prior authorizations
Approved in fall 2022, the Improving Seniors' Timely Access to Care Act streamlines prior authorization requirements under MA plans, which intends to make it easier for these beneficiaries to access physical and mental care faster. The legislation established an electronic prior authorization process and requires the U.S. Department of Health & Human Services (HHS) to develop a process of real-time decisions for items and services that are routinely approved.
Making Medicare more attractive to mental health providers
The National Council on Aging (NCOA) reported on studies with mental health providers, revealing that 70% of respondents had either "turned away potential patients because of Medicare policy, referred existing clients who became Medicare-eligible during the course of treatment, or adjusted their fee structure to accommodate these individuals."
Plus, CMS's new behavioral health strategy "seeks to remove barriers to care and services, and to adopt a data-informed approach to evaluate our behavioral health programs and policies." Part of their approach is to continue efforts to create parity between physical and mental health reimbursement.
Historically, primary care physicians (PCPs) encountered barriers to receiving full reimbursement for appointments used for diagnosing mental health conditions. This reimbursement limitation thwarted the family physician's ability to offer care management of mental health conditions or integrate with behavioral health services. New coverage policies emphasize collaborative care where PCPs may choose to work in partnership with a behavioral health care manager and consult with mental health specialists.
Lowering behavioral health costs and enhancing coverage
The Medicare Improvements for Patients and Providers Act lowered cost-sharing for outpatient mental health services compared to general medical care. This ended the mandatory phase-out period thereby capping coinsurance for both mental health and general medical at 20%. These policies have been proven to increase outpatient mental health follow-up after psychiatric hospitalization.
Additionally, regulations passed in 2020 closed the Medicare Part D "donut hole" in prescription coverage, enhancing access and adherence to mental health treatment plans. The Affordable Care Act (ACA) also includes free Annual Wellness Visits for all Medicare beneficiaries that can consist of depression screenings.
Integrating care billing
CMS introduced billing codes that permit general medical providers to bill Medicare for mental health care planning and management services. While adoption has been slow, HHS has plans to increase awareness with providers to ensure physicians know how best to leverage this opportunity to provide more mental health-related services.
Expanding reimbursement to include telehealth
While Medicare has always covered mental health diagnosis, evaluation, and treatment delivered via telehealth technology, coverage was significantly expanded through the COVID-19 public health emergency rules, which were made permanent.
These are just a few ways that CMS is working to improve behavioral health access while engaging more clinicians in providing care to senior adults. In addition to policies that encourage high-quality, accessible, and affordable mental healthcare, provider organizations can leverage specific innovation programs, funding sources, and technologies to address the mental health needs of older patients.
Strategies to address the burgeoning need for behavioral health services for senior adults
Provider organizations can expand their offerings to patients while enabling greater access to high-quality mental healthcare for senior adults. Here are three approaches to consider.
The value of primary care in behavioral health integration
While some senior adults prefer a hospital-based or specialist program for mental health services, many find that their primary care physician is the best route for their needs. To meet these preferences, CMS launched the first cohort of the Primary Care First (PCF) Model in 2021, intending to increase patient access to advanced primary care services, including Behavioral Health Integration (BHI).
According to CMS's first evaluation, "Participating practices take on upside and downside financial risk for the most common primary care services for their attributed Medicare fee-for-service (FFS) population. CMS assigns practices to one of four risk groups based on the average Hierarchical Condition Category (HCC) score among their Medicare FFS beneficiaries."
BHI has proven to increase access to treatment, producing better patient outcomes while reducing costs and improving the patient experience. Integrated primary care programs can also support entry into value-based care arrangements for provider organizations.
One example includes a network of senior-focused primary care practices called Partners for Primary Care. Their value-based care team approach gives clinicians more time with senior adults — 45 minutes on average per visit — and trains other team members to recognize the signs of mental health disorders and to use psychological screening tools.
According to the American Academy of Family Physicians (AAFP), family physicians are well-equipped to provide mental health services. And, because roughly two-thirds of primary care physicians cannot link seniors with outpatient mental health services, PCPs take a leading role in behavioral healthcare management.
Alternative and value-based payment models
Primary care transformation and value-based arrangements offer opportunities for provider organizations to support enhanced or integrated behavioral health services. Models like the Patient-Centered Medical Home (PCMH), Advanced Primary Care, Chronic Care or Disease Management, and Accountable Care Organizations can support behavioral health integration.
Provider and community collaboration
In the same vein as value-based care models, provider organizations partner with managed care organizations (MCOs) and community-based organizations (CBOs) to create a more comprehensive primary care offering for seniors.
One example is a phone-based friendship line operated by the Institute on Aging, a CBO. Reported by seniors to create a marked decrease in depression, anxiety, and loneliness over six months, this program is an example of when primary care connects with the community to support seniors. This one program witnessed a significant drop in 30-day and six-month readmission rates for older adults.
Technology to support behavioral healthcare
An essential aspect of any BHI, primary care first, or VBC arrangement for seniors' behavioral health access is having the right technology to support implementation and care delivery. Software platforms, digital health tools, and technologies like virtual care and remote patient monitoring play a critical role in extending access, coordinating care, and engaging patients in near real-time or asynchronously.
Telehealth coverage for mental health was substantially expanded during the pandemic, with services like individual and group counseling being reimbursed at the same rate as in-person services. Policy changes enhanced accessibility by waiving originating-site requirements and some HIPAA requirements, authorizing providers to conduct virtual mental health visits with new patients, as well as licensed providers to deliver services to patients in different states.
With the end of the public health emergency (PHE), CMS created temporary policy changes effective through December 31, 2024. These changes extend existing provisions, including:
Federally qualified health centers (FQHCs)

and rural health clinics (RHCs) can continue to serve as distant site providers for behavioral and mental telehealth services

Medicare patients can continue to receive telehealth services in their home
Originating site for non-behavioral/mental telehealth services continue without restrictions
Some non-behavioral/mental telehealth services can continue to be delivered using audio-only communication platforms
In-person visits are not required within six months of an initial behavioral/mental telehealth service
Telehealth services can continue to be provided by all eligible Medicare providers
Other technologies like digital behavioral health and digital therapeutics, remote patient monitoring, and care coordination platforms can be leveraged by provider organizations to not only deliver behavioral health-related care management but to operationalize value-based or grant-funded models that support programs for senior adults.
Transform the provider's role in behavioral healthcare for older Americans
Consumer demand for behavioral health care is increasing alongside a super-aging population. Through BHI, accountable care, and innovative models of care, provider organizations have the opportunity to improve behavioral health care quality and access.
ThoroughCare's intuitive software platform can help providers deliver this type of patient engagement and untangle the BHI process. ThoroughCare can:
Streamline the creation of patient care plans
Support staff workflows with guided assessments
Help motivate patients through clinical recommendations
Analyze patient risk factors and generate clinical recommendations
Track and log BHI services for an audit-proof record of care
Support validated assessments to identify behavioral health conditions, including PHQ-9 (Depression), GAD-7 (Anxiety), CAGE (Alcohol), DAST-10 (Substance Abuse), and MDQ (Mood Disorders).