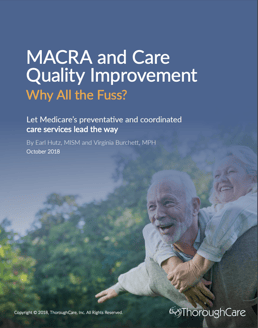 MACRA is here, and it's here to stay. Many healthcare providers like you are challenged by the regulation, yet fail to understand, or even acknowledge, the support provided through numerous Medicare care management, prevention and wellness services.
When applied successfully, these fee-for-service programs present an avenue to improved quality of patient care while directly addressing many of the requirements defined by MIPS and Alternate Payment Models -- allowing for additional opportunities for increased revenue through payment bonuses at your practice.

In this white paper, ThoroughCare's Chief Operating Officer, Earl Hutz, addresses the following topics:
Challenges/areas of concern confronting providers in achieving MACRA requirements
How these challenges are addressed by Medicare's care management, prevention and wellness programs
Opportunities for providers involved with Alternate Payment Models
Receive your free white paper today!